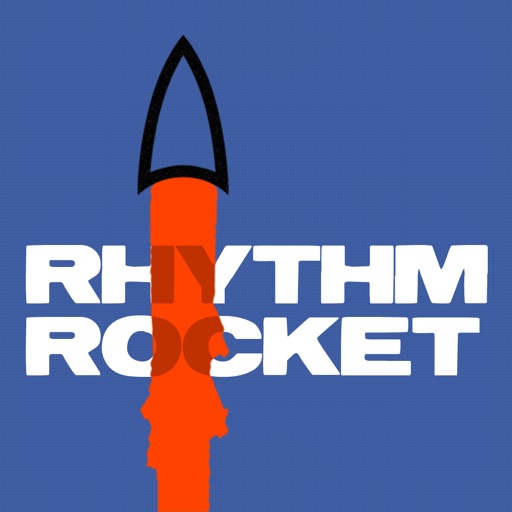 + Universal App
FREE!
Rating:
:: SIMPLE BEATS
Race a rocket to the beat of your own music, while dodging asteroids. Rhythm Rocket might be a little too simple for extended sessions but it is appealing.
Developer:
Scraping the Barrel
Price: $0.99
Version Reviewed: 1.2
Device Reviewed On: iPhone 5
Graphics / Sound
Rating:
Game Controls
Rating:
Gameplay
Rating:
Replay Value
Rating:
Overall Rating:
Rhythm Rocket
is an immensely simple idea for a game, but it works, even if it would have benefited from the inclusion of challenges or other ways to keep players focused.
There's no story to keep an eye on within
Rhythm Rocket
, it's all about the action. A rocket flies up the screen with the player needing to keep it from colliding with too many asteroids. Points are gained for flying near to the asteroids, while not hitting them, while points are lost for a collision. This proves very easy to do, regardless of if touch or tilt based controls are used. Fortunately, a bit of practice does the world of good. I found myself preferring the touch based controls with a touch or swipe on the edge of the screen initiating sharper turns.
So far, so…average. Why is Rhythm Rocket worthy of anyone's attention, and why is the word "rhythm" in the title? Because of how music affects the action. The game comes with a few bundled tracks to listen to while playing. Crucially, such music affects the momentum in which the rocket flies up the screen. Listen to a slow track and the rocket moves sluggishly up the screen. Listen to a fast paced rock number and prepare to need the reactions of a cat. Most entertainingly of all, players aren't restricted to the game's music as they can import their own tracks.
This immediately makes Rhythm Rocket rather appealing. There's little structure behind the gameplay, other than to keep racing up the screen accruing more points but the personal element of using one's own music benefits it. It might be very simple but there's still fun to be had. My only criticism is that I can't see Rhythm Rocket being a game to play for any huge length of time. More one to enjoy for a brief time before moving on elsewhere. Include some structure, however, and I can see more players flocking its way.