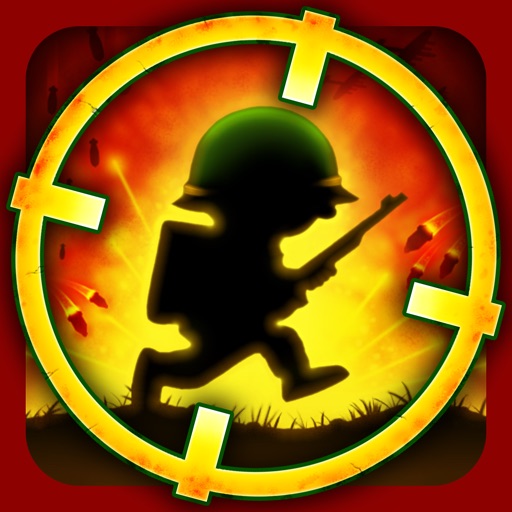 + Universal App
FREE!
Rating:
:: RUN AND GUN
My Army: Reloaded makes it easier for everyone to check out this quirky little shooter.
Developer:
Distinctive Developments Ltd
Price: Free
Version Reviewed: 1.0.0
Device Reviewed On: iPad 2
Graphics / Sound
Rating:
Controls
Rating:
Gameplay
Rating:
Playtime
Rating:
Replay Value
Rating:
Overall Rating:
As its title suggests,
My Army: Reloaded
is simply an upgraded version of
My Army
. Considering the original was released just a few months ago, it makes sense that this edition doesn't bring much new to the table. However, some small changes go a long way towards bringing the game to a wider audience.
The core game remains unchanged. My Army: Reloaded plays like a cross between a modern infinite runner and a classic vertical-scrolling shooter, or even something like Call of Snakes. Players tilt their device to steer a line of soldiers as far into the battlefield as possible. Players must also guide troops away from deadly obstacles and towards loot all while being shot at by enemy forces. Soldiers can shoot back but ammo is limited and once the whole team is taken out it is game over. However, war prisoners and Facebook friends can also be recruited to help finish the fight while players themselves can manually tap missiles out of the sky. Aside from the slightly sluggish controls, it's got a fun, fast pace. What it lacks in platforming, or even complexity, it makes up for in arcade action.
Like the original, My Army: Reloaded's cartoon visuals are cute but merely serviceable and the backgrounds tend to repeat too often even for an infinite runner. Meanwhile, the audio quality sounds weirdly cheap. Luckily, in addition to being universal, this version drops the price from $0.99 to free making the production values easier to forgive. Also easy to forgive are the small freemium elements. Real money can be spent on upgrades like extra armor and stealthy ninja costumes but those can also be bought with the fairly plentiful in-game gold. These are the kind of inoffensive trade-offs more freemium games should implement.
My Army put some neat twists on a few different genre tropes and made a unique and enjoyable casual shooter. My Army: Reloaded does all that on more devices for free. Now is the time to enlist.

[gallery size="thumbnail"]