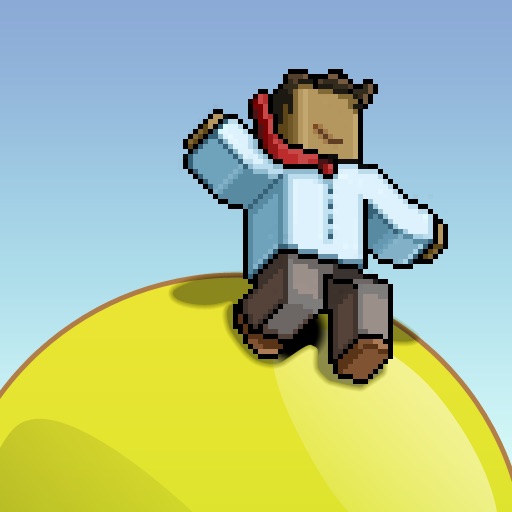 iPhone App
FREE!
Rating:
:: CHAOTIC FUN
Taxiball is a spin on the Labyrinth genre that has you speeding through narrow city avenues in order to deliver passengers to their destinations. It's not a must-have, but its charm and personality make it a solid buy for fans of marble-rolling games.
Developer:
Self Aware Games
Price: $1.99; sale for $0.99
Version Reviewed: 1.0
Graphics / Sound [rating:3.5/5]
Game Controls [rating:3.5/5]
Gameplay [rating:3.5/5]
iPhone Integration [rating:4/5]
User Interface [rating:4/5]
Re-use / Replay Value [rating:3.5/5]
Overall Rating:

Here we go again—another accelerometer-based ball-rolling romp, this time with an urban theme. As a taxiball driver, you have to navigate each city, picking up fares and delivering them to their destinations. For some odd reason, taxicabs are banned in this world, and the taxiball seems to be the preferred method of transportation. I quickly learned that I wasn't exactly a natural taxiball driver—let's just say that I jarred my passengers a bit—but the challenge makes it fun and the game as a whole is charming. Sure, it's got a few flaws, and I'd like to see new content in the future, but it's worth a look.
These cities aren't simple grid-based designs; instead, they're full of twisting avenues and various hazards, including water, grass, and directional pulls (presumably caused the by the wind or something like that). There's also a significant emphasis on haste, as you'll need to complete a certain amount of fares in a given amount of time, and it takes some speedy accuracy to deliver your passengers to their proper destinations on time. A time bonus is awarded each time you pick up a fare, but that clock still represents a pressing deadline. On the whole, the game is quite frustrating—though the game is entertaining, you'll get a definite sense of satisfaction upon completing a city. Making a living on a taxiball isn't a cakewalk!
Controls are dead-simple and accelerometer-based, much as you'd expect from any Labyrinth-esque game. There's a simple calibration option included, but I do wish that I could fine-tune it, as with Marble Blast. In Marble Blast, you can set the "max tilt" in any direction, and I found myself missing that feature. Gentle nudges are difficult under Taxiball's default settings as a result. Still, though, the controls are mostly responsive.
The graphics in Taxiball are simplistic and colorful, and almost nostalgic. Everything uses a top-down view, simplifying the gameplay; nothing is overly complex. The graphics didn't bowl me over, but they definitely have their own charm. As the game admonishes you, headphones are required to fully appreciate the soundtrack, which is composed entirely of beatboxing. Neat! Your passengers also react to your driving skills (or lack thereof) with cute, cheeky emoticons inside thought bubbles. Taxiball's presentation gives it an air of laid-back charm that belies the haste involved. Its unique personality is one of its better qualities, in my opinion, and the inclusion of things like dog-passengers just makes you smile all the more.
As far as achievements go, Taxiball cheerfully provides a wide variety of options. At first, unlocking the seven cities might satisfy some, but there's also a well-rounded system of achievements that you can shoot for, too. An online leaderboard rounds out the offerings. Additionally, there's a friends list—much more useful than an online leaderboard, in my opinion, as you'll be comparing stats with your actual real-life buds. It's a feature that really ought to be implemented in other apps, though of course it's only useful if your friends are fellow iPhone gamers.
Taxiball isn't perfect. Most importantly, I'd love more extensive calibration options. They're not necessary, but I'd still like to have the option. More content, in the form of map updates or so on, would be much appreciated. It's also worth noting that Taxiball a casual game; its main purpose is simply to be a sweet diversion. And while I found it to be fun and charming, I didn't see any killer features that really made it stand out among the immense competition in the App Store.
On the whole, Taxiball is a quirky, cheerful little title that will be beloved by fans of the marble-rolling genre. It's got its own unique flair, and it'; while I didn't think that it was overly unique, it's still a good game. Take the lite version for a test drive; if you enjoy it, be sure to go for the full version before the sale ends!