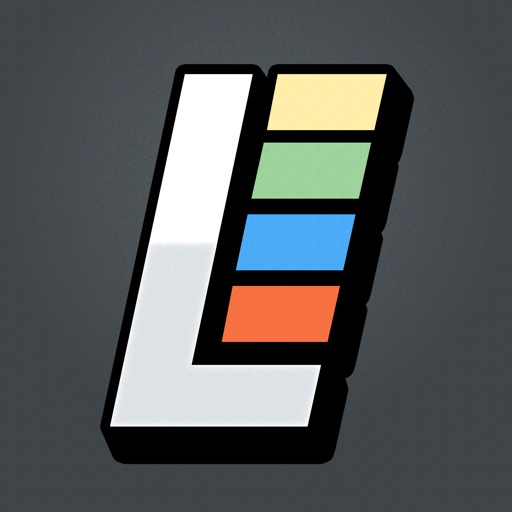 + Universal App
FREE!
Rating:
:: 3D WORDPLAY
Take on friends and foes in this infectious 3D word-building puzzle game.
Developer:
Kirill Edelman
Price: $1.99
Version Reviewed: 1.0
App Reviewed on: iPhone 4S
Graphics / Sound
Rating:
Controls
Rating:
Gameplay
Rating:
Replay Value
Rating:
Overall Rating:
Unlike other word-building games, Letterverse incorporates a variety of touch gestures, meaning that players will have to think laterally if they want to rack-up the big points.
Each unique cel-shaded stage is fully interactive, enabling players to get a different perspective on the situation and help them decide which word to play. They can use two fingers to alternate between a birds-eye view and a ground-level view, use two fingers in a circular motion to rotate the level on its axis, or pinch with two fingers to zoom in and out. There is also a very useful 'X-Ray' view that gets rid of everything besides the letter blocks for streamlined wordplay.
Whether they choose to play against Game Center friends, or let the game auto-match them up with a random opponent, players will go head-to-head in a battle of vocabulary wizardry over several beautifully rendered stages. They can have several of these games open at the same time, and will receive notifications when it's their turn to play. I'm surprised that there is no Twitter or Facebook support available for match-making though as personally not many of my friends use Game Center, but they love to game through Facebook. The gesture controls also tend to be a little over-sensitive, especially when trying to place the letter blocks on top of one another. On the whole they work well though, especially when used on an iPad.
Overall, Letterverse is an addictive, attractive, and challenging puzzler that will test one's vocabulary capabilities while the 3D levels add a unique and interesting twist to the gameplay. For those people who love word-based puzzle games, Letterverse brings something fresh to the genre and consequently cements itself as one of the standout games in its category.