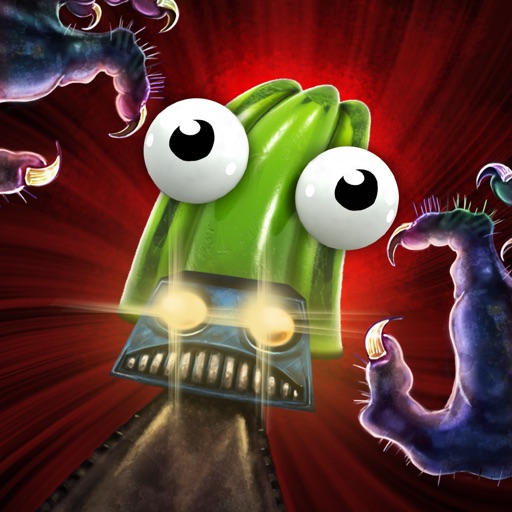 iPhone App
$0.99
Rating:
:: GHOSTLY RUNNING
Ride a ghost train around a haunted world and dodge the evil monsters within.
Developer:
kunst-stoff GmbH
Price: $0.99
Version Reviewed: 1.2
Device Reviewed On: iPhone 5
Graphics / Sound
Rating:
Game Controls
Rating:
Gameplay
Rating:
Replay Value
Rating:
Overall Rating:
A spin-off of
Pudding Panic
,
The Great Jitters: Panic Ride
follows current trends and pursues the Endless Running side of things. Well, I say running, it's actually racing around in a ghost train. It's pretty fun too, although it takes a moment to get the hang of the tilt based controls. Admittedly, I'd have appreciated the option for more tap based controls.
Players take control of a very nervous ghost as he embarks on an on-rails ride amongst many nasty monsters and obstacles. He does have some form of defense, thanks to an attack button and a brake, but these are in limited supply, meaning the focus is squarely on dodging such opposition rather than acting aggressively. A series of tracks interweave, meaning a tilt in either direction takes the ghost train down different paths.
It's a fairly frantic ride, given how much happens and there's hardly a moment to take in the spooky scenery. It takes a few attempts to truly master the timing of fighting back, too. It's better to hit the attack button a brief second before arriving at a monster, rather than hitting them directly.
Once things click, however, The Great Jitters: Panic Ride is quite fun. It's possible to accrue some satisfying combos and speed up to very fast levels, as the points accumulate. This is where the crux of the fun comes, as well as through the achievements that add some extra purpose.
The Great Jitters: Panic Ride doesn't quite have the 'just one more go' factor that other Endless Runners offer, but it is quite enjoyable. Unlike other titles in the genre, it gets right into the action so there's no slightly dull start to contend with, instead things speed up instantly. Such original animations further add to the experience and general ambience.