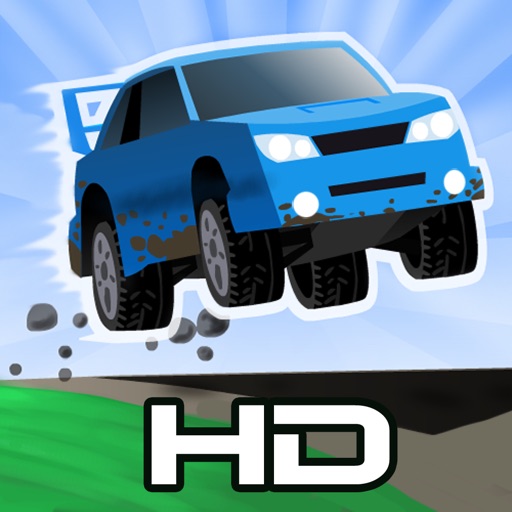 iPad App
$1.99
Rating:
:: AVERAGE RACER
Cubed Rally Racer HD is a small game on a large screen, and it shows. In terms of graphics, control, and game play, this game does not translate perfectly to the iPad.
Developer:
NOCANWIN
Price: $1.99
Version Reviewed: 1.1.1
Device Reviewed On: iPad
Graphics / Sound
Rating:
Game Controls
Rating:
Gameplay
Rating:
Replay Value
Rating:
Overall Rating:
Cubed Rally Racer HD, from nocanwin, is an iPad upscaling of the company's popular iPhone racing game. While there's some fun to be had here, this may be a case of a game that plays well on the iPhone, but is perhaps too little game for big brother iPad.
In each race, you take control of a cubish little car -- blue by default, red and blue in two-player -- and race to the finish of a randomly-generated track littered with trees, cows, and other obstacles. The whole thing plays out to a jaunty chipset soundtrack that gets a little repetitive after a few games.
The racing experience is fun enough, but it's hurt by two problems: dull design and overly sensitive controls. In terms of design, the problem is this: the simple graphical nature of the game, which worked fairly well on the smaller iPhone, feels like too little game for the iPad's expansive real estate. Colors are flat; obstacles are sparse; too much of the screen is empty.
In terms of control, well, there's not enough of it. The car speeds up quickly, turns sharply, and has no means of reversing. It's so very easy to drive yourself into a corner you can't get out of except by
going off the track or to simply oversteer to the same bad ending. There are no sensitivity adjustments to counter this. It can make the game frustrating instead of fun.
The best part of Cubed Rally Racer HD is its local 2-player mode, which lets two players sit across from one another and race to the finish. I'm a big fan of multiplayer on the iPad, so I was glad to see this feature, and my six-year-old son and I had some fun with it. But you're still dealing with the so-so controls and plain level design.
If you were a fan of Cubed Racer Rally, you might enjoy having an HD version on your iPad. In general, fans of simple racing games might get a kick out of this game's retro stylings and quick play, especially for the game's low price. More serious iPad gamers will probably want to give this one a miss, however.