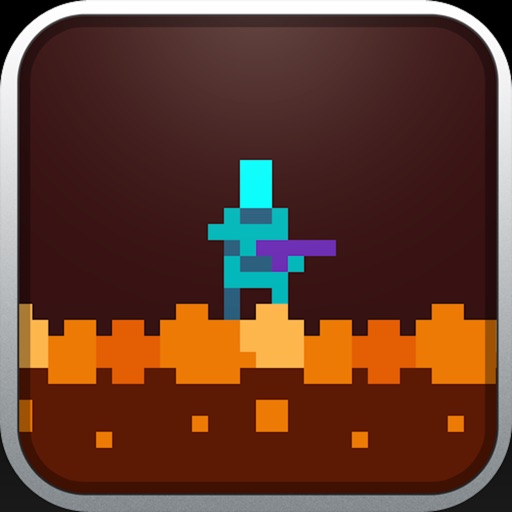 + Universal App
$0.99
Rating:
:: BAD DREAM
Nightmerica is an arena shooter with some cool ideas, just not the best implementation of them.
Developer:
Voltic
Price: $0.99
Version Reviewed: 1.1
Device Reviewed On: iPhone 5
Graphics / Sound
Rating:
Controls
Rating:
Gameplay
Rating:
Replay Value
Rating:
Overall Rating:
Nightmerica starts off as an appealing concept: a Super Crate Box-alike in a dystopian and nightmarish future? Why that sounds like quite the rollicking good time! Plus, there's the ability to choose which two weapons and unlimited-ammo sidearm players want to roll out with. This is done with a coins system that pressures players with choices: is it worth saving up for long-term upgrades? Or are short-term health and ammo replenishment better uses of the limited amounts of coins, unless IAP is used to buy more?
Really, it could have been a cool balance, but the game is just somewhat frustrating to play. The battlefields in Nightmerica are too big: nothing is really an imminent threat because escape seems frequent, unless a flying enemy is in the way. The graphics, while giving off an early-90s PC game look, need to use a more varied color scheme, in part to differentiate everything. The backgrounds feel like they use a similar pool of colors as the foreground, so everything just feels muddy. The controls either require using ugly-looking left/right buttons or an unwieldy joystick, and the virtual button to activate in-game items is large, ugly, and not immediately apparent as to what it does. It looks like a refresh or "cycle" button, not an "exchange money for goods and services" button.
But really, I think that 
Nightmerica
's lack of stakes thanks to the currency system weakens the overall package. I imagine if this game was entirely self-contained, and players were forced to fight for survival and spend their coins entirely in-game - making their decisions matter now - would really make the kind of nightmarish survival theme that 
Nightmerica
 wants to put forth come to life. But as it is now, I wonder: what is the goal? What is the point of still going? Why do I want to try and survive?
There's a really cool game idea here, I just think that it needs to be approached from a different angle than what these developers tried it as. An interesting failure is still more interesting than a boring game that colors in all the lines, though. Plus, the music's pretty rad.