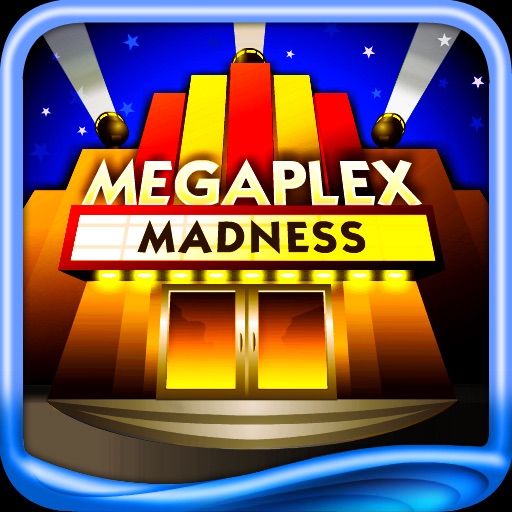 iPhone App
$0.99
Rating:
:: AVERAGE
Megaplex Madness is a fairly run of the mill time management game. It's pretty fun, but does very little to separate itself from the pack.
Developer:
Big Fish Games
Price: $2.99
Version Reviewed: 1.0
Graphics / Sound
Rating:
Game Controls
Rating:
Gameplay
Rating:
Re-use / Replay Value
Rating:
Overall Rating:
I was originally drawn to Megaplex Madness because of its mention on Apple's Game Center list, despite its relative obscurity. Who does Apple think they are, putting games I've never heard of in special lists? It's almost like they are trying to promote new apps rather than old ones that have sold a trillian copies. Madness!
Well needless to say, I took the bait and downloaded the game. I knew going in that it was a simple time management game, but it looked like a more complex Diner Dash set in a Multi-Mega-Screen Movie Theater, so I was fairly excited. After playing for awhile, though, I found that the game was a bit of a mixed bag.
The basic idea of the game is that each stage represents a night at the cinema, so some nights are kids only nights, some nights are adult only nights, and some are mixed. As people walk up to your theater, their wants are displayed as a picture icon. For example, if they want a ticket, a ticket icon pops up, and if they want popcorn, a little popcorn icon appears. People are also color coordinated too, so you get special bonuses for having the same color people go to the same lines in succession.
Past the basics, every level is an extension of the last. My real problem with the game is that it doesn't present too much of a challenge. Once you've beaten one level, you've beaten them all. Getting perfect scores throughout should be a rarity, but in this one it's commonplace.
If you love time management games, Megaplex Madness will probably whet your whistle. It's a good game, but it doesn't really do anything to make it better than any other.