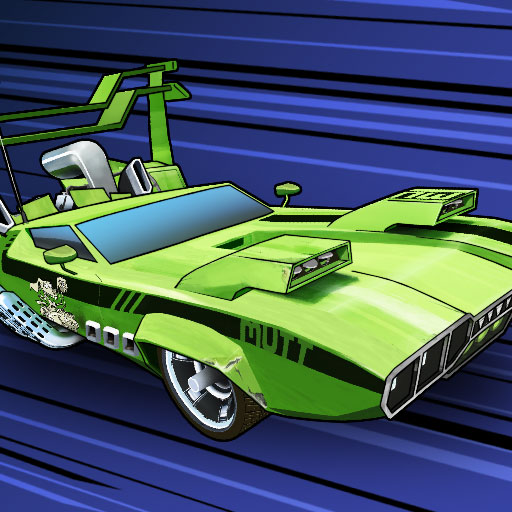 + Universal App
FREE!
Rating:
:: ON THE SHORT SIDE
Steer high powered futuristic muscle cars with advanced weapons systems through tracks at insane speeds.
Developer:
Disney
Price: Free
Version Reviewed: 1.0.0
Device Reviewed On: iPhone 4S
Graphics / Sound
Rating:
Game Controls
Rating:
Gameplay
Rating:
Replay Value
Rating:
Overall Rating:
For those who might not already be aware,
Motorcity
is an animated series that airs on Disney's XD network. The show features daring drivers that race in souped up, futuristic muscle cars studded with missiles and machine guns in an attempt to save their beloved Motorcity from the robot enthusiast villain, Abraham Kane. In the game
Motorcity: Drive
, players take the driver's seat and guide one of these super cars through short races through the city dodging obstacles and shooting down robots on the way.
The gameplay loosely resembles an on-rails shooter. The car speeds forward automatically and follows the general direction of the track in front of it. The player uses either tilt controls or an onscreen virtual joystick to guide an aiming reticule around the screen to aim their weapons at enemy robots. This reticule also steers the car around various obstacles that block portions of the track. By moving the reticule to the left or right the car will move left or right with it. Having both weapons aiming and steering dependent on the same input can be a bit unwieldy, but it generally works out. The game really isn't that challenging and its forgiving mechanics make the controls much easier to handle.
The game has a great animated style and closely resembles the Disney television show's style. Even for an ad supported free title, the game is relatively short though. There are currently only 6 levels and each level only takes a few minutes to complete. The difficulty does increase, but the
Motorcity:Drive
plays more like an interactive cartoon than an actual game. That said, the game is fun to play and easy to enjoy for a few minutes. Players won't be coming back to the game day after day or planning out intense strategies for each level, but they will get a few minutes of arcade shooter enjoyment and flashy visuals for free.