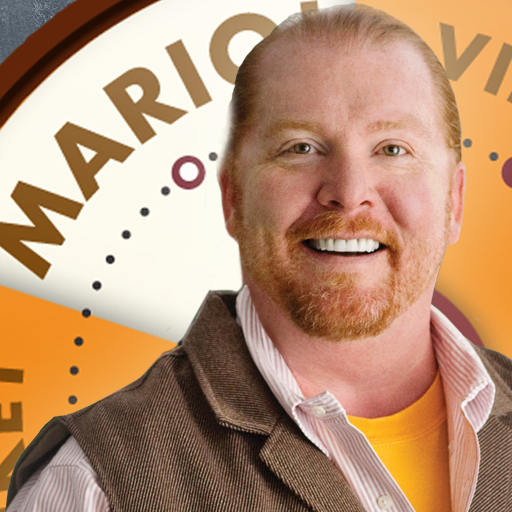 + Universal App
$9.99
Rating:
:: Iron Chef Worthy!
No other cooking app quite compares to the singular Mario Batali Cooks!
Developer:
HIGH FIVE LABS
Price: $4.99
Version Reviewed: 1.4
Device Reviewed On: iPhone
iPhone Integration
Rating:
User Interface
Rating:
Re-use Value
Rating:
Overall Rating:
I have met the future of recipe apps, and it's named after celebrity chef Mario Batali.
For those not familiar with the preeminent Iron Chef, Mario Batali is the culinary master of all Italian cuisines. His knowledge and expertise are expansive, and his unusual personal style marks him as an eccentric "artiste" even among cutting-edge chefs. So it's no wonder that Mario's app is well beyond what most have come to expect from a foodie app. Mario Batali Cooks! is comprehensive, well designed, entertaining, educational and, best of all, imminently useful.
I've watched Mario for years, even his instructional cooking show Molto Mario, yet I never felt I could attempt many, if any, of the dishes he presented. Sure, they were pretty and looked amazingly tasty, but they simply seemed way, way beyond my limited skill set. What an amazing thing to discover, then, that Mario Batali Cooks! features a large number of recipes that appeal to me as an amateur cook. Some push that envelope pretty heavily, but most are entirely approachable for anyone willing to learn a few new techniques.
Currently, the app features over 60 recipes, each with step-by-step text instructions and a custom video from Batali. There are a variety of ways to search through these recipes, but my absolute favorite is the map view, where you are treated to a map of the various regions of Italy. Tap a region and you then see that area broken into its component locations as well. From there, just choose one of these smaller regions to get an overview of the area from Batali and a list of all recipes available from that part of Italy. Most of the recipes, while slightly more advanced than the conventional Joy of Cooking type, are easily prepared in under an hour, and many make easy yet sophisticated weeknight dinner fare. Once you pick a recipe, a simple tap will load all of the ingredients into a custom shopping list which you can then export to email.
All of the elements of Mario Batali Cooks! - from the map navigation to the videos to the shopping lists - are carefully configured on a simple dial-based home screen. It's this dial that truly pulls all of the disparate pieces of the app together and makes for a truly cohesive experience. Sure, I've seen recipe apps before that have multiple features, and that feature a slightly similar interface, but none present such a comprehensive overview of one chef's point of view and expertise in such an elegant manner. It's like carrying Batali in your pocket - and if you've ever seen him, that's no easy feat.
I like other recipe apps out there. Honestly, I do. But nothing compares to Mario Batali Cooks! It is in a league of its own, which is only appropriate for such a singular chef. Every aspect - from videos to recipes, to shopping lists to interactive maps - is seamlessly stitched together, making it an app that rises above the sum of its parts. There are other recipe apps, certainly, but none that give you such a wealth of specific knowledge from a culinary genius. If you are interested in Italian cooking whatsoever, you owe it to yourself to give Mario Batali Cooks a spin. It's that good.
So, why does this app deserve a perfect score? To me that comes down to what the app attempts and whether or not it is successful in that attempt. In this case, Mario Batali Cooks! doesn't attempt to be an all-encompassing recipe app. Rather, it is designed to showcase the culinary skills of master chef Batali and teach you some basic skills in order to improve your Italian cooking. That it teaches some history of the various culinary regions of Italy is just the proverbial icing on the cake. That it does all of this using a clever, easily-manipulated design pushes it over the top of most other food apps. This one's a clear winner, folks!