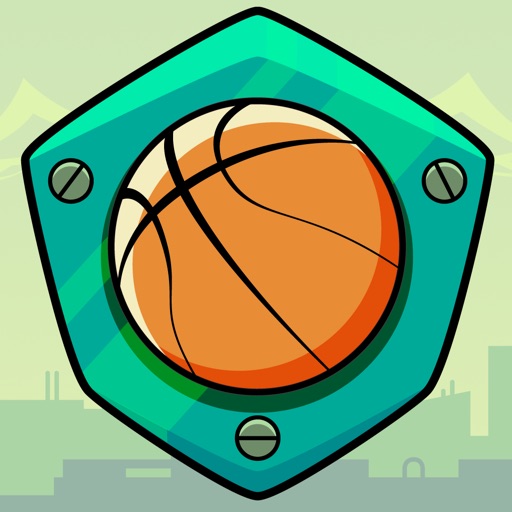 iPad App
FREE!
Rating:
:: POUND THE ROCK
Gasketball is like basketball, but with portals and buzzsaws. Also, it's playable over the internet, which is difficult to do with a real basketball.
Developer:
Mikengreg
Price: Free
Version Reviewed: 1.0
Device Reviewed On: iPad 2
Graphics / Sound
Rating:
Gameplay
Rating:
Playtime:
Rating:
Replay Value
Rating:
Overall Rating:
Anyone who's ever played basketball has played HORSE, where one player takes a shot that the other tries to match. No one has played HORSE like how
Gasketball
plays HORSE. Its portals and buzzsaws make
those old McDonalds commercials look downright plausible
. While competitive shot-making is the overarching goal, the heart of the game is its asynchronous multiplayer mode, where one person sets up a shot, tries to make it in 15 or fewer attempts, and then the other player gets as 5 or more attempts to make the same shot. Before each round, a wheel is spun that mandates certain criteria, such as a minimum number of bounces, or if insane wind comes in to play.
The multiplayer is actually as much about creativity as it is about the competition, which is what makes the game so unique; in many ways, it's about trying to make that perfect shot, yet creating one with the various objects like pinball bumpers that's actually makeable, especially since not making a shot causes another letter to be added to one's own tally. Yet, it means that the competition part of the multiplayer is almost diminished, as it's an internal battle between tricky shot creation and shot making. This is most fun with friends, when good-natured trash talking can be bandied about.
However, those who aren't fans of the multiplayer will find plenty to enjoy here. The singleplayer levels are numerous and challenging. In particular, this is because the levels come in sets of 3, and to even earn a single star on them, the player can't miss more than 5 shots! However, they provide a great way to get used to the different items, and plenty of inspiration for shots in the multiplayer mode.
Now, the game is free, but it's more akin to a demo than a true free-to-play game. There's a small number of levels, and one item to use for the multiplayer, but it only gives a fleeting taste of what is contained in the whole package. It's $2.99 to unlock everything, and really, I'd argue that if the concept is intriguing, then just buy the full IAP. I don't think the free content is going to sway a lot of people one way or the other. The game is currently iPad-only, but the developers have stated that like winter, an iPhone version is coming.
Gasketball is definitely an original take on the basketball formula, and one I found enjoyable for reasons beyond the actual shot making, as the creative aspects proved to be the greatest strength. Grab some friends and start trash-talking each other.