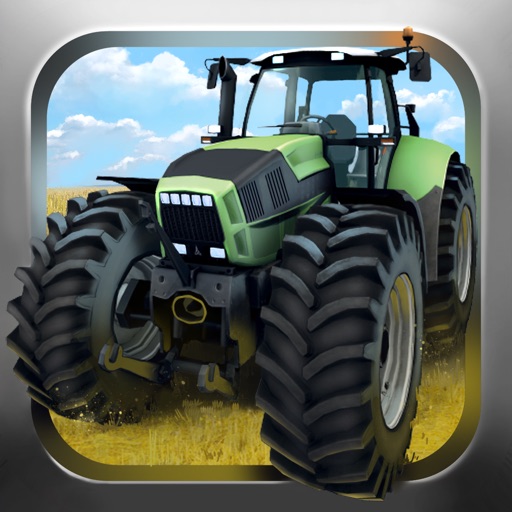 + Universal App
$1.99
Rating:
:: SOLID YIELD
Sometimes simulations have to dial back the complexity in order to make something fun. This title follows that concept to perfection.
Developer:
Astragon Software GmbH
Price: $2.99
Version: 1.1
App Reviewed on: iPad 2
Graphics / Sound
Rating:
Game Controls
Rating:
Gameplay
Rating:
Replay Value
Rating:
Overall Rating:
Cultivating crops and feeding the masses is a noble career that has been around for most of recorded history. Granted, back in the early days it was more about essential survival and less about simply making a living off of the land. Still, food doesn't just appear on store shelves every morning. So how better to show the realities of the agriculture field (no pun intended) than trivialize it in game form? Can
Farming Simulator 2012
manage to cultivate fun from an un-tilled simulation genre, or is it suffering from a chronic drought of enjoyment?
Let the engines roar and seed fly as you embrace the daily lot of any farmer who has placed furrow to ground in the last decade. Everything from plowing under last year's chaff to planting, spraying and harvesting yield are emulated in a way that carries weight for the player while also remaining approachable. There are two different control schemes that employ either the gyroscopic tilt or on-screen buttons.
While the controls are and mechanics are straightforward enough, there are still plenty of issues guiding a player's experience. If one were to just jump into the game, they would be left at a loss as what to do at any given point. Sure, there are occasional pop-up messages from time-to-time and information icons strewn about the farm, but there seems to be very little direction as to what is needed to progress further. Eventually these key points can be deciphered through trial and error, but sometimes it is necessary to hold a player's hand more than
Farming Simulator 2012
tends to.
The game's developer, Astragon Software, is hardly a newcomer to developing simulations, but this is their first iOS title. They have gone to great pains to create an financial ecosystem  that also reflects that of real-life agriculture. Players have the option to sell crops as they so choose, and can even decide to sit on a harvest in order for the market price to improve. Just be sure there is still enough money left in the coffers to buy gas, expand the farmland, and buy new equipment, because they are essential in the business' survival.
If there were one other detraction that could come away from Farming Simulator 2012, it would have to be the visual presentation.  Bluntly put, it does not even come close to what is expected from a 3D rendered iOS environment.  That said, it is very obvious that the game was a labor of love that is well worth exploring further. If simulations tickle your fancy, there should be more than enough fun to keep you happily toiling in the fields for days.

[gallery]