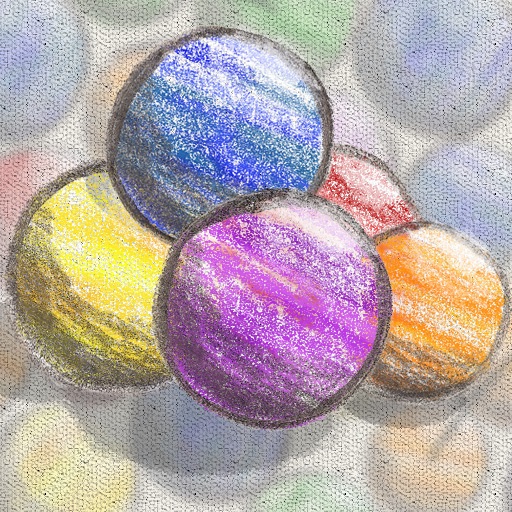 iPhone App
$2.99
Rating:
:: RECOMMENDED
ScribBall a ball popping game with a great crayon style. Recently a great update to increase the game play variety was released.
Developer:
Howling Moon Software
Price: $3.99
Version Reviewed: 1.0
Graphics / Sound [rating:4/5]
Game Controls [rating:4/5]
Re-use / Replay Value [rating:4/5]
Overall Rating:
[Update for version 1.1] Howling Moon wrote us to ask us to take another look now that they have updated to 1.1 and addressed some of the things we pointed out in this review. The one main feature that they have updated is they have addressed some of the game play variety issues. They have added some special balls the provide some interesting twists to the game play. In addition, they have fixed one the cardinal rules of iPhone game development that they had violated. They now save the game state when you leave the game so that you can return and continue your game later.
All in all some great changes that increase the value of this game by making it a lot more fun. While there are still some things they could to to add lots of value to this great game, this update is great to see! Updated the star rating and changed our recommendation from Average to Recommended.
Also not that this game is currently on sale for $0.99. Pretty good value for that price.

---
ScribBall is an iPhone OS adaptation of a similar game for the Mac of the same name. Unfortunately it lacks the variety in the game pieces and game play of the desktop version. ScribBall for the iPhone OS has just the basic pieces and one game variation.
The basic game play is that you can click balls to remove them and tlit your phone to move balls around to get groups of 4 or more balls together. When groups of 4 or more same color balls get together they are automatically removed and you get points multiplied by the number of balls you get. Doing this multiple times in a row gives you bonus multiplier points and slows the timer. Your goal is to get as many points as possible before the timer reaches the end.
Here's a short demo to show you what the game is like.
[youtube BCjoYzXSZvg]
This game seems like it was released a little early. The basis of a fantastic game is there. The graphics are great, the control is good, but there just isn't enough replay value for the current price.