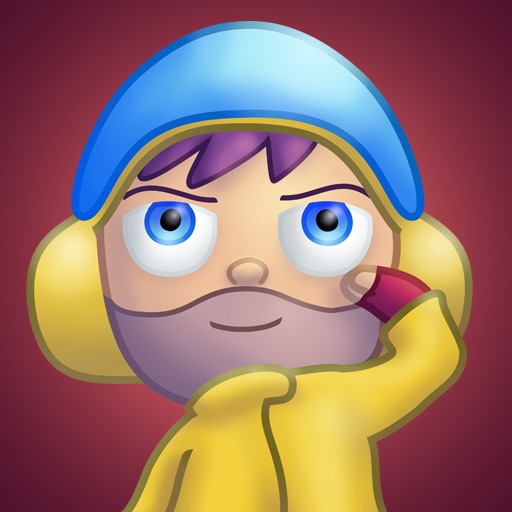 iPhone App
$1.99
Rating:
:: MAYBE
This game is a puzzle platformer that is not for the weak. You are a fireman who has the task of rescuing every person (Darwin) from that level in order to succeed. If you're a seasoned puzzler, then give it a try, if you're new to this style then I woul
Developer:
Connect2Media
Price: $2.99
Version Reviewed: 1.0
Graphics / Sound [rating:4/5]
Game Controls [rating:2/5]
Gameplay [rating:3/5]
Re-use / Replay Value [rating:3/5]
Overall Rating:
Go Go Rescue Squad sees you as a firefighter trying to rescue 'Darwins' from burning buildings. Some of the traumatic things you will have to deal with are exploding chemicals, killer robots, collapsing buildings, and of course the fires! Do you have what it takes to keep everyone safe or will they be burnt to krispies under your watch? Save them all to win the level.
This app is a puzzle platformer, which is becoming a really popular style of game for the iPhone /iPod Touch, and we are seeing more and more of them in all sorts of styles and themes. This particular style of this game is very cartoonish in appearance, and also a bit simple in its aims. Still, it has 64 levels for you to solve which leaves you with many hours of game play. Some are very challenging and may keep you there for quite a while so be warned.
Go Go Rescue Squad does follow its fire rescue theme very well. You can explore the level you are on, zoom in and see where all the fires / danger are, and directly interact with your firefighters. Also good is that you have different fireman in the level, which means that you can become another character and solve that part of the level (rescue the people nearby).
There are also different 'personalities' of these Darwins...
Twonks will run and stay trapped on ledges. Screebs will run and jump off ledges, making them most difficult to save because they run so fast and ignore the edges. Finally, the Funzies can climb ladders and use fire extinguishers.
The game play:
To start off, you select a district where you will go to fight fires. Each level is locked until you reach certain level goals, and each of these levels has a good number of puzzles to complete. During your stay at training camp you learn the basics that should see you safely through all the levels. You learn that these Darwins must make it to the doorways, mostly achieved by picking up the little guys and throwing them.
The obstacles that will stop you are long drops, creaky wood, ice, locked doors and shutters so be careful! As a firefighter you can climb the ladders, jump across platforms, or to platforms below, but there are some occasions where you get stuck down a hole. Falling down a hole is sometimes necessary, so you need to realize when this is a good idea and when it's going to make you have to redo the level.
Moving is easy enough, touch the direction you want to go. If you tap a different fireman you will then control him. As items become available to your fireman to use, there is a bubble that appears above him. This is set up in a kind of 'set' so that if there is a bubble over his head to throw an item or Darwin, then there will be one below which will drop the item etc. You can pick up and throw a bunch of different items including fire extinguishers.
Some of the bad points about the game:
Although I have described the basic movements of the game as pretty straightforward, in practice it isn't quite the reality. If you have two firefighters slightly too close to each other then it is easy to keep clicking the wrong one. I found the controls awkward, and didn't like the bubbles above my head, why can't I just select the item instead? It was often confusing.
Also, I really did not like the way you had to aim and throw things (especially those poor Darwins - Why throw the people?!). It was an awkward maneuver which took too long and I ended up getting more frustrated than having fun with it. The spaces (buildings) felt cramped, and the rooms were so small, almost like there was too little detail. I found it frustrating and did give up rather than play the game for ages and ages.
There is also a rewind 'feature' which is a bit strange because you can go back to a previous state. This lowers your medal rating for that level (there are Bronze, Silver and Gold medals awarded). The thing is, that if you just re-start the level there is no penalty. So you wrestle with the idea that for a bit more boredom of a restart you will get a higher rating.
I wanted to like this game but the graphics were a bit too simplistic, the way the controls work were a bit too over complicated, and I just found there was not a lot of fun factor. I thought this might just not be a game for me, so I asked my son to have a go of this 'fab new game', and after a short while he handed it back saying "that's well annoying, so frustrating to throw those people". I realize this isn't exactly scientific, but he likes a lot of games. A LOT.
[youtube kIySEAV9h4M]
Overall, if you have done a few of these style games and enjoy a difficult puzzle then you might like it. If you are a bit newer to this style of game I would recommend that you try a different one first. There are so many of these puzzle platformer style games out there to choose from, so choose wisely.