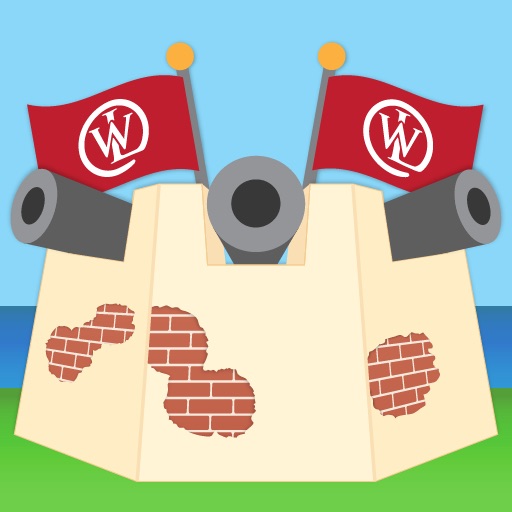 + Universal App
$1.99
Rating:
:: YARR!
A challenging but fun pirate themed word game.
Developer:
Accio
Price: $1.99
Version Reviewed: 1.0.2
Device Reviewed On: iPhone 4
Graphics / Sound
Rating:
Game Controls
Rating:
Gameplay
Rating:
Replay Value
Rating:
Overall Rating:
Word Lubbers
looks rather sweet and innocent. With almost a childlike style depicting pirate ships, cannons and walls, it'd be easy to assume
Word Lubbers
would be decidingly easy and no challenge whatsoever. This couldn't be further from the truth.
Word Lubbers
is a challenging yet enjoyable word game.
Much of this is down to the need to juggle both offensive and defensive play at the same time. The player must defend against pirates unleashing numerous cannon balls at their base, while also firing in return to annihilate the threat. This is all done through the creation of words.
A selection of word tiles are provided at the bottom of the screen with the player creating words to form a defensive wall and also to attack the invading ships. It's a complex battle at first and pretty fast paced. There's the constant need to keep track of everything with the enemy firing flurries of cannonballs at regular intervals. Crucially, words of 5 letters or more make all the difference to forming stable defensive walls and knocking out the enemy quickly.
Three different modes are available with similar game mechanics: Survival, Challenge and Team Co-op. Survival mode is as the name suggests: last as long as possible, while Challenge mode presents five challenges that introduce different elements such as only being able to use a word once in a game or struggling with a supply of awkward letters such as Z, X and J. It mixes things up appropriately and extends longevity well. Team Co-op involves teaming up with someone via Game Center in order to score the best points possible together.
Word Lubbers takes some time to master but it's worth persevering. With a relatively tight time limit before the enemy pirates wipe the player out, it's a frantic race but one that is winnable and quite satisfying in the end.