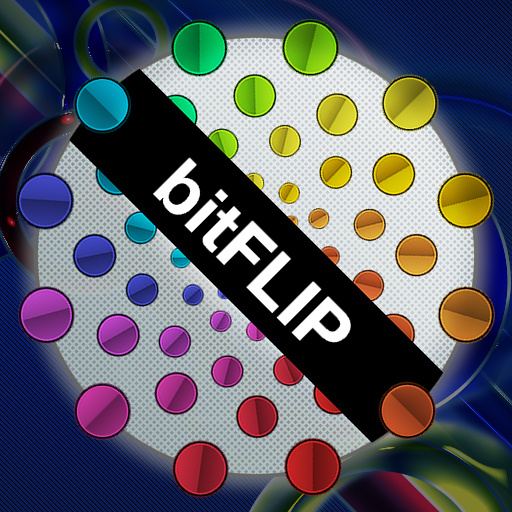 iPhone App
FREE!
Rating:
:: PUZZLE RAVE
Although essentially a match-three variant, bitFlip brings a bunch of style and some welcome innovation to the mix.
Developer:
Hands-On Mobile
Price: $1.99
Version Reviewed: 1.0
Graphics / Sound
Rating:
Game Controls
Rating:
Gameplay
Rating:
User Interface
Rating:
Re-use / Replay Value
Rating:
Overall Rating:
A funny thing happened on the way to the rave. A puzzle game broke out. Loaded with a pulsating art-style and a killer soundtrack, bitFlip is uber-cool in the audio-visual department, but does the gameplay hold up? Although bitFlip is based on the age-old, match-three archetype, the answer is yes. It adds a flipping mechanic to the usual swapping we've all seen, as well as its own structural personality, and manages to deliver something that is fresh in both style and substance.
The basic game board of bitFlip is made up of a 5x5 grid containing circular bits. Each bit has a symbol and is double-sided with respect to color. For example, a bit containing a triangle symbol is always red on one side, and green on the other. You need to match three or more bits of the same type and color by swapping two adjacent bits, or by flipping them to their other side. Swapping is performed by a tap and drag, whereas flipping is triggered by a double-tap and drag. The ability to flip bits in this manner adds a whole new layer of strategy to the mix, allowing you to maneuver the board and set-up combos in ingenious ways. The game offers 3 different difficulty levels, board sizes, and bit sets that let you tailor the experience.
You start out bitFlip with two game modes, Endless and Quick Jam. In Endless mode, the board is filled-in via periodic waves. Before the next wave is placed, you attempt to clear as many bits as possible. As more waves pass, bits may start being stacked on top of each other, and the game ends when they stack too high. This is shown by a heat map of sorts that goes from green to red. There is some incentive to setting up a match with a flip as opposed to a normal swap, as that will clear a bit underneath as well. Endless mode cycles through 9 levels, each with 4 three minute phases. The levels get progressively harder, with more bit types added as you proceed. In Quick Jam mode, you are given a full board and a single three minute period to see how high you can rack up the score. As you clear bits, new ones immediately appear to take their place, and no stacking takes place. In both Endless and Quick Jam, matching 4 or more bits will sometimes earn you special tokens that you can clear just by tapping them. Removing these tokens fills-up a meter that can then be touched to unleash either Bubble Burst or Tilt Mode power-ups. Bubble Burst causes numerous bits to wobble that can be tapped to clear, scoring generous bonus points in the process. The Tilt Mode power-up tilts the board in a certain direction, causing a steady stream of bits to slide and thus offering ample opportunity to score numerous matches.
As you play through Endless Mode, a Continue option will appear in the menu allowing you to play any level and phase that you've already visited. After completing 5 Quick Jam sessions, Forever Jam is also unlocked. This is essentially a never-ending version of Quick Jam with the addition of small stars that occasionally appear and can then be swiped to the top for additional points. bitFlip also contains a music mode that lets you listen to the soundtrack with a basic graphic visualizer, achievements that are referred to as icomplishments in the game, and an interesting multiplayer mode that lets you join a friend for some co-op or competitive action via WiFi or bluetooth.
Unfortunately, the leaderboard included in bitFlip is local only, and severely lacking at that. Metamoorephosis, the developers of the game, have already stated that global leaderboards will be coming via the next update, as well as some surprises. Maybe we will see an additional game mode, such as a more structured campaign or a set of limited-move puzzles, which are frequent inclusions in the genre. Some more general instructions with regards to how the game is structured, as well as more intuitive menus, would be nice to help lend some clarity to what can start out as a slightly obtuse experience.
With both good looks and personality, bitFlip definitely amounts to one slick and impressive title. The ability to flip your bits gives the game some intriguing depth, and cements it as not just another match-three clone. When you add up the sights, sounds, and gameplay of bitFlip, you get a very solid and mesmerizing experience that puzzle fans and hipsters alike should not miss.
[gallery size="thumbnail" columns="4"]