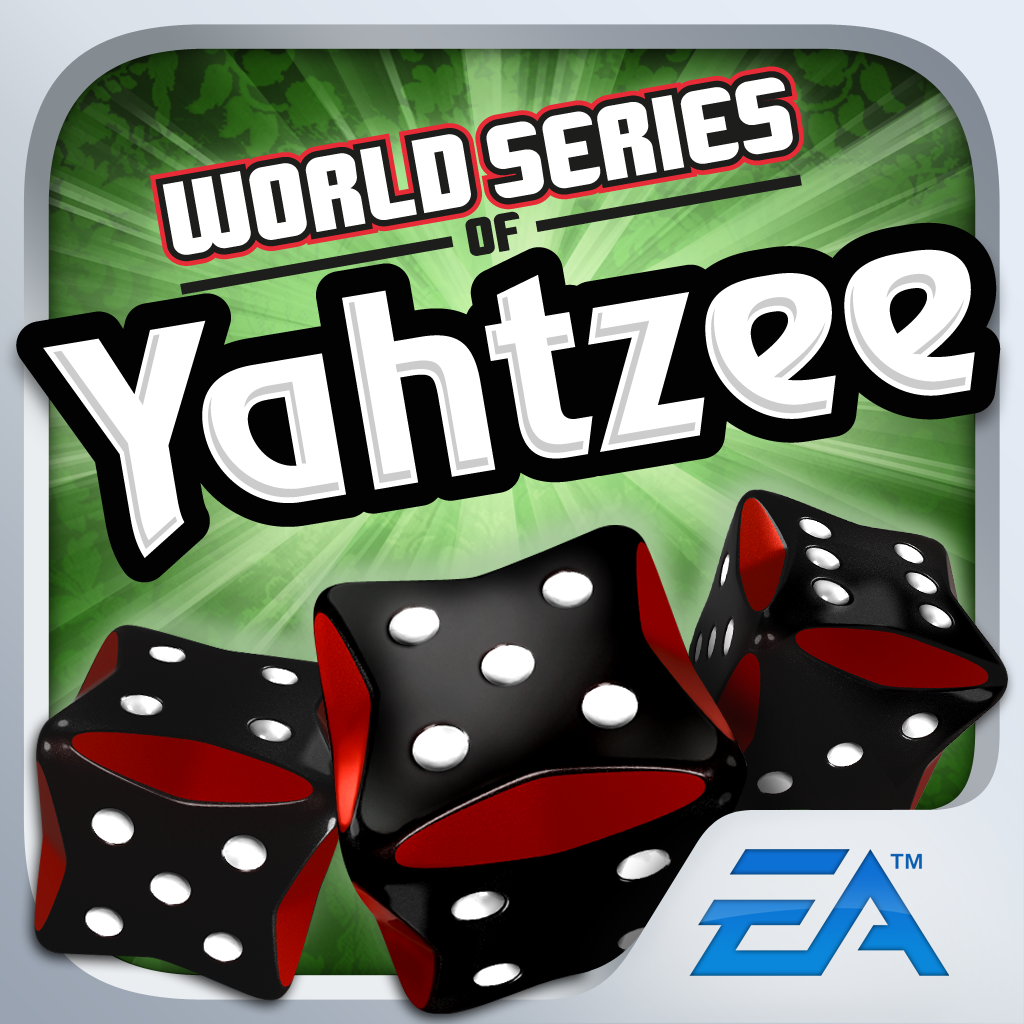 + Universal App
FREE!
Rating:
:: HIGH ROLLER
It's always a mixed bag when companies try to reboot a franchise. In this case, the outcome ends up being both flashy and fantastic.
Developer:
Electronic Arts
Price: Free
Version: 1.0.0
App Reviewed on: iPad 2
Graphics / Sound
Rating:
Gameplay
Rating:
Playtime
Rating:
Replay Value
Rating:
Overall Rating:
Looking back at the history of gaming, there has hardly been a single piece of hardware that has proven to be more critical than dice. Board games would be lost without them. Craps tables would be reduced to barren wastelands of lost chips and broken dreams. Heck, the late Gary Gygax would probably have been nothing more than an antisocial nerd without their existence. Needless to say, but in many cases dice not only changed the face of gaming, but actually made it possible altogether. And to no game are dice more fundamental than Hasbro's stalwart
Yahtzee
franchise. Can Electronic Arts manage to provide a modern reboot to the popular cube conflict on iOS, or are they needlessly trying to reinvent the roller?
The main tweak to the traditional
Yahtzee
formula is that the player's round is timed. Within this time frame the dice can be rolled any number of times in order to create the perfect collection. However, the actual scoring groups that are available are determined by a 3x3 grid consisting of tiles that read the name of the combination as well as the point value assigned. Even if the player manages to get a Yahtzee, if it is not among the available plays they must then settle for one of the others available such as a four of a kind. Once played, the tile is then cleared and replaced with another from the stack. The trick is to get the highest cumulative score value over the span of each turn. Each match plays out much like what has been seen in other social games such as the Zynga "
With Friends
" franchises, only this time there are only 3 rounds for each competitor.
Though the game is free-to-play and offers the ability to purchase power-ups before each round, they are hardly critical to winning matches. Do they provided a slight added benefit? Sure. But most of the time, much like Yahtzee in its classic form, it all comes down to the luck of the dice roll. There are also ads that pop-up in between every round, but they aren't overly intrusive and anyone who is familiar with the free versions of any of the previously noted "With Friends" games will probably not even notice them.
For a game that costs absolutely nothing, World Series of Yahtzee manages to provide many interesting and awesome twists on the traditional formula. Introduction of a timed "urgency" mechanic serves the brand well and will also translate to fun competitive action for all involved. Electronic Arts may have finally gotten the hang of this free-to-play thing. No need to roll the dice on this one, World Series of Yahtzee is a big win.

[gallery]