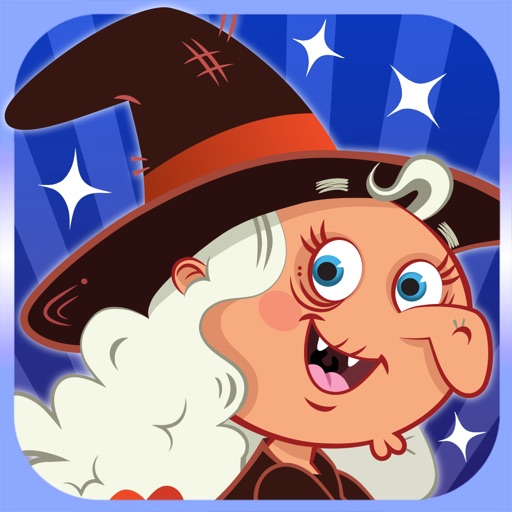 + Universal App
$0.99
Rating:
:: SEASONAL AMUSEMENT
Witches' Brew offers short bursts of seasonal fun.
Developer:
Pixel Envision
Price: $.99
Version Reviewed: 1.1
Device Reviewed On: iPad 2
Graphics / Sound
Rating:
Game Controls
Rating:
Gameplay
Rating:
Replay Value
Rating:
Overall Rating:
A simple holiday offering, Witches' Brew HD is a surprisingly fun little Halloween game. Using tilt controls whose sensitivity can be adjusted, players guide a cartoonishly funny witch as she tries to fill her cauldron with the ingredients to her magical elixir.
The witch glides left and right trying to collect eyes of newt, toads, spiders and other creepy tidbits in increasingly fast-paced levels, while collecting Halloween treats as they all fall from the top of the screen to gain points. But beware, catch a voodoo doll and the witch shrinks to a tiny size causing her no small consternation and a lot of missed opportunities to catch what she needs. Catch a toadstool and lose a life.
There is not much to this casual minute killer, but the pick-up-and play title, which gets increasingly frantic on the 50 included levels, is actually quite enjoyable. And on the easy setting the game is ideal for even very young children getting ready for a sugar buzz.
For a game with its own built-in expiration date, the developers put in a fair amount of care. The controls are precise, the graphics engaging and the music and sound effects are predictable, but well done. The app has even been updated to address some performance issues. 
Witches' Brew
is Game Center and Open Feint enabled for leaderboards and there are 12 achievements to be earned. There is no learning curve, just pick up the iPhone or iPad and start playing.
The only flaw is the slight delay in the time it takes for the witch to make a 180 at the ends of the screen to adjust her cauldron the right way. And, it's not always entirely clear what to do with the items that fall to the floor, but I don't suppose it really matters.
This game isn't supposed to pack in a life-time of replay value, and its greatest appeal is likely to be to children. But, enough attention went into the small details to make this a better seasonal title than most that flood the app store at this time of year, and worth the $.99 to keep overexcited kids in check until the big day.