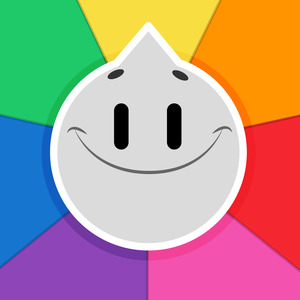 + Universal & Apple Watch App
FREE!
Rating:
:: SOCIAL IQ TEST
Sick of dated or repetitive quiz material killing the pace of a promising trivia game with your friends? Well you're in luck, because Trivia Crack is the answer to all of your trivia needs.
Developer:
Etermax
Price: FREE
Version Reviewed: 1.9.3
App Reviewed on: iPhone 5s
Graphics / Sound
Rating:
Gameplay
Rating:
Playtime
Rating:
Replay Value
Rating:
Overall Rating:
The exercise of flexing your brain muscles through the art of trivia has always been a concept that many still struggle to entertain themselves with. Even in this day and age some just downright avoid it. One of the biggest factors to why people find Trivia so intimidating is the overwhelming pressure it instills in a competitive environment by creating an immediate divide of accessibility between the savvy and the casual, with little compromise considered towards the latter.
Trivia Crack strives to tear down that wall by creating an asynchronous multiplayer climate that allows for a slew of social avenues that are seamlessly available to in a manner that's geared around doing everything it can to acclimate to anyone who plays it, without having to make any sort of intellectual concession as a result.
To start, jumping in is as easy as calling out to opponents through random match-making or a list of your friends who also play off of either your Facebook or Twitter profile - depending on how you configure it. Once the challenge is accepted, the challenger will begin the round with a spin on the wheel that can randomly land on one of six categories of knowledge, or a shortcut to the challenge round.
Featuring shades of the board game Cranium, the goal is to consecutively answer each question correctly, scrambling to earn admission to the challenge round after three successive answers, vying for a crown on a subject of your choice, and going on until you collect them all. While this arrangement hardly seems like anything groundbreaking as far as the conventional fundamentals of trivia competition go, the appeal of this venture hinges on the dynamics that it's filtered through. Answering correctly will not only keep you on the winning path, but it will net you coins - currency that can be spent on valuable power-ups, which will better your odds to carry on your turn.
Power-ups that vary anywhere from a safety-netted second chance to a multiple choice filter on whatever may be wrong are veritable game-changers that can completely turn a game around, creating all the right tensions that encourage competitive play instead of discouraging it. Specifically, the tension of making that costly mistake that then passes the round baton over to your opponent, bringing out the inherently subtle cutthroat pace and agency that sets the tone for progression - especially when the race to the victory crown edges closer and closer.
To compound the intensity, whenever you're granted a challenge round, players can choose to steal one of their opponent's crowns through a lightning gauntlet of five mutual mixed-subject questions where the winner takes all.
Overall, Trivia Crack's aim to collapse those stigmas by striving to operate around an engaging and approachable community that perpetually grows from its user-generated content and expanded participation is poised to reinvigorate the nuanced past time of picking your brain. Along with a consumer-friendly micro-transaction system without the obnoxious ad-riddled version or bullish pay-wall, you'd be remiss not to download this toady. Heck, it could very well be the next Words With Friends.