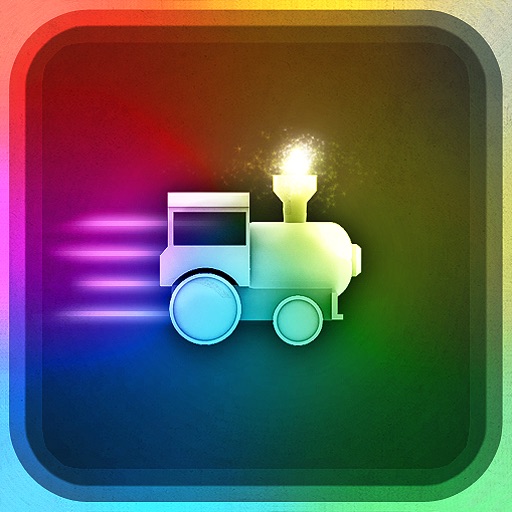 + Universal App
FREE!
Rating:
:: ODDLY FUN
Trainyard Express may be the best value that you will ever get out of a free game. With 60 original puzzles, you could be playing this one for a long while.
Developer:
Matt Rix
Price: FREE
Version Reviewed: 1.15
Graphics / Sound
Rating:
Game Controls
Rating:
Gameplay
Rating:
Re-use / Replay Value
Rating:
Overall Rating:
Trainyard express is a spartan (as in bare bones, not Greek) puzzle game with a simple task to boot. The simple goal is to get a few trains from their departure point to their ending point without crashing them or breaking the dreaded color rules.
The first few levels are incredibly easy, easing you into the monster challenge that will soon come. All you have to do from the get-go is to get the blue train out of the blue departure point and into the blue terminal. As you progress through the game, you have to deal with switching tracks, color blending, timed collision blending, and obstructions. The extremely shallow learning curve for the first bunch of levels gets incredibly steep once you get to Quebec (the levels are all named after Canadian provinces).
As for the details, the game is pretty bare bones, with just a black background, a grid overlay, and some simple track graphics. Any additional graphics though would be unwanted because it would just make the game more difficult.
Trainyard Express certainly isn't for everyone, but I don't think the developer intended it to be that way. There really aren't any graphics or sound to speak of, and there are no exciting action sequences to go through. There is also no time limit and no lives, so there's no need to hurry.
Overall, it's about as exciting as doing a Sudoku puzzle, which for some (including myself) is the perfect way to spend a bit of free time. If you like slow paced puzzlers that will actually give you a good challenge, Trainyard Express is a good buy.
For a bit of back story, Trainyard Express is technically the free version of the original game, Trainyard. In Matt Rix's promo email, he writes that, "I prefer to think of it as a "prequel" rather than a 'lite' game, because it's WAY bigger than most lite games. I spent a lot of time creating 60 brand-new puzzles just for it, so it can really be considered a full game on its own." If you do in fact enjoy playing Trainyard Express, don't hesitate to pick up Trainyard too. It's not free, but it's always good to support good devs.