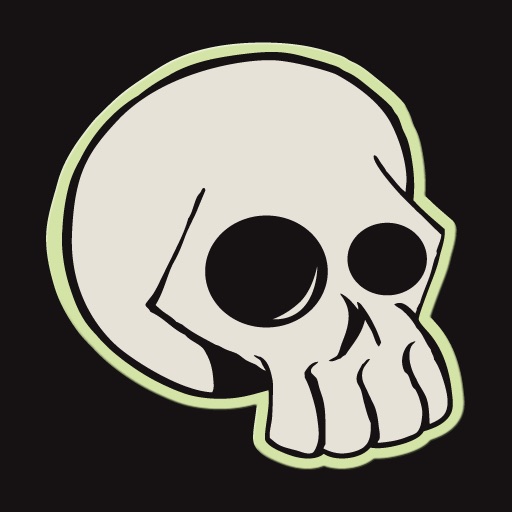 iPhone App
$2.99
Rating:
:: FUN BUT EXPENSIVE
Tiny Grave puts a darker twist on traditional match-three games, but its steep price tag doesn't do it any favors.
Developer:
Digital Hero
Price: $2.99
Version Reviewed: 1.1
Device Reviewed On: iPod Touch
Graphics / Sound
Rating:
Game Controls
Rating:
Gameplay
Rating:
Replay Value
Rating:
Overall Rating:
Do you often think to yourself, "I'd play Bejeweled more often if only it featured skulls, brains and severed hands?" If so, then you're squarely in the target audience for Tiny Grave, a match-three game with a slightly more macabre theme. The title throws in a few wrinkles that add a bit of style and help it stand apart from the crowd, but the steep price tag may be too frightening for some folks to overcome.
Tiny Grave transcends traditional matching games by constantly providing new challenges. Some stages will see players trying to make a certain number of matches in a limited time-frame, while others will task you with getting a specific body part from the top of the play area to the bottom. Each set of levels throws out slightly different challenges, so the game manages to stay very fresh throughout.
On top of all that, Tiny Grave also features a few different power-ups that allow stuck players to extend the game. Different abilities let you remove all of one type of body part on the board, blow up a 3x3 grid or even make illegal moves in order to set up a match later on. Of course these bonus skills are finite, so players can't rely too heavily on them in order to get by.
The app also touts its visuals and voice cast as selling points, but this is more of a mixed bag. The colorful and playful art direction is entertaining, but the voice acting is at best passable and and worst, grating. Repeated quips during levels quickly grow annoying, and the poorly written, hammy script will likely make your teeth grind. It's another example that just because you can do something with a game doesn't necessarily mean that you should.
Tiny Grave is highly entertaining, but it comes at a premium. At $2.99 it's a fairly expensive app, and it's hard to say the experience stands out enough that it's truly worth that price. If the game were $0.99 or even $1.99 it would be incredibly easy to recommend, but $3 is enough to give a bit of pause. If you love jewel matching games but want something with a sillier and darker theme then this game will work, but it's also totally understandable if you'd prefer to find a cheaper alternative.