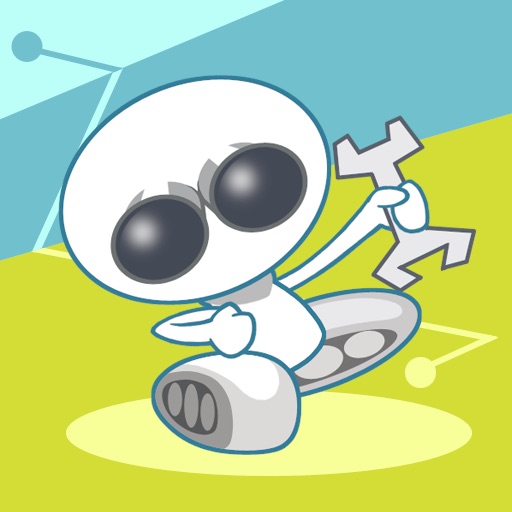 iPhone App
$0.99
Rating:
:: GREAT
Timeloop is a cute & crafty cartoon time travel game that has you thinking of what puzzles need to be solved in order to save the poor scientists! The concept is quite ingenious and provides one of the better experiences on the app store.
Developer:
Connect2Media
Price: $0.99
Version Reviewed: 0.0.3
Graphics / Sound [rating:5/5]
Game Controls [rating:4/5]
Gameplay [rating:5/5]
Re-use / Replay Value [rating:4/5]
Overall Rating:
Timeloop is billed as a puzzle based adventure, but don't let that put you off. I'm not usually too keen on the puzzle styles (as I honestly get defeated easily) but this game was fun!
The first thing you'll notice about Timeloop after launch is its great style, giving you these really cute cartoon pages to let you know what the game is about. The basic goal of each level, and the game for that matter, is to rescue the scientists from suffocating with the robot (and save cats along the way). Throughout the game, you must travel through time because the scientists are in an endless time loop, putting them in suffocating situations (bad pun) each time. Along the way to rescuing the scientists, there are doors that you have to pass through, most of which need fixed generators to activate. It did take me a few levels to "get" what was required of me and what the point was, but once I did, it was a really interesting game.
Timeloop has 32 levels to complete, all of which have the same basic objective... get to the scientist. Each level provides you with a few tools that will help you to repair doors etc, including a spanner, a blowtorch, a mobile phone and a hairdryer. As the levels get progressively more difficult, and they definitely do, there is a real sense of a time rush, so I found myself clicking really fast to get him to move quicker to the rescue. It helps a lot to use the two fingers drag control to plan your attack. Sliding around with two fingers moves the lab around a bit to see all the doors and their mechanisms. This made a difference and a few puzzles I was able to solve far quicker then if I had not seen them first. Fortunately, if you do fail on a level, you just re-do it, and it's still fun to redo them because there isn't necessarily just one way to complete a level.
Any negatives about this fun game?
As far as any negative aspects I suppose as always, I want more levels, but I do realize that not all games can offer me infinity. There are also some times when you need to be very precise with your clicks, or your guy gets stuck behind the door and you waste a second or two. This may not sound like a lot but actually I've lost a few levels because of this one second time delay. If the controls were a bit more precise, the game would be a lot less frustrating.
[youtube Bc-2XN1j6yQ]
If you're a veteran puzzle player or not, this game is worth a try. It's quite fun and requires some extreme planning for how to help your future self... it'll all make sense once you start playing. The graphics are slick and the sound effects are quite interesting. Tack on the great gameplay and you'll want to sit and play as many levels as you can in one go. Have fun!