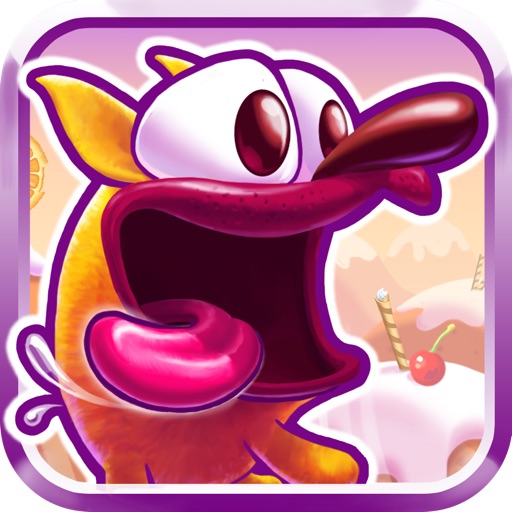 + Universal App
FREE!
Rating:
:: FAMILIAR BUT FUN
Borrowing a little too heavily from Tiny Wings, Sugar High does at least come up with some of its own ideas.
Developer:
Short Break Studios
Price: $0.99
Version Reviewed: 1.0
Device Reviewed On: iPhone 4
Graphics / Sound
Rating:
Game Controls
Rating:
Gameplay
Rating:
Replay Value
Rating:
Overall Rating:
Let's get this out of the way,
Sugar High
is quite a
Tiny Wings
clone. The general concept is the same and, fortunately, the same levels of fun can be attained from it.
Sugar High
isn't quite as lazy as it sounds though, instead offering a few subtle additions that make it worthy of attention.
Sugar High
starts out by explaining the story of why the player needs to fetch a bunch of food. It's all down to a food focused dog by the name of Biscuit, who dreams of eating sugary sweets, cakes and even fruit. Set in Biscuit's imagination,
Sugar High
offers the same bouncy, endless running fun of
Tiny Wings
.
Twists come in the form of the fruit scattered around each stage. Oranges and kiwi fruits provide a reason to carefully aim and time Biscuit's dives down the hill. Line up with one of these giant fruits just right, and the dog does a loop the loop around the fruit, gaining extra points and speeding up. Melons provide a similar effect but downwards rather than upwards.
It's a small addition but a fun way of mixing up the traditional Tiny Wings experience. It also ties in well with the multiplier bonuses. Collect a sufficient number of sweets, rush through the giant fruit and time jumps perfectly to gain the most points. Max out the multiplier and Sugar High mode kicks in vastly increasing the amount of points gained. It encourages players to master each section of the game and complete some perfect sequences.
It's clearly obvious that Sugar High borrows a little too much from Tiny Wings but it will appeal to those whose Tiny Wings abilities have plateaued and who fancy a new challenge. The new additions to this game make such copying more forgivable, also, as they are fun. Get past the sense of unease that such cloning causes and Sugar High is a reasonable accompaniment to the endless running genre.