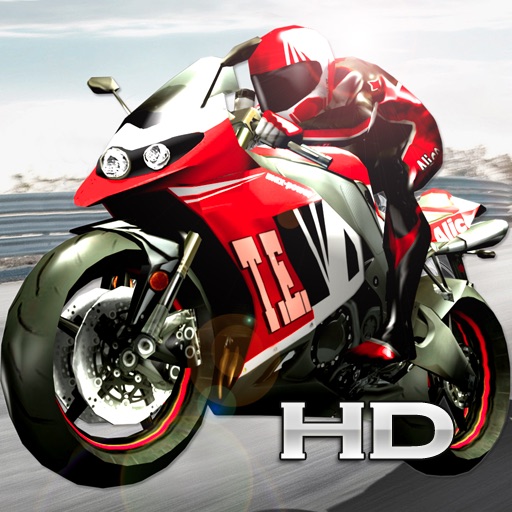 iPad App
$0.99
Our Review by
Dan Lee
on April 2nd, 2012
Rating:
:: NOT QUITE
Race through the streets in high performance bikes.
Developer:
Chillingo
Price: $0.99
Version Reviewed: 1.0
Device Reviewed On: iPad
Graphics / Sound
Rating:
Game Controls
Rating:
Gameplay
Rating:
Replay Value
Rating:
Overall Rating:
As one might guess from the title,
Streetbike: Full Blast HD
favours two wheels over four as the player gets to blast around cities on high performance bikes. While the racing itself is solid, a lack of polish and a few control niggles get in the way.
Streetbike: Full Blast HD certainly isn't lacking when it comes to content. The "Street Battle" mode has nine leagues, each with an increase in difficulty, and a number of different races to master.
"Pass Cars" sees the player set a target number of bikes and cars to overtake. "Don't Crash" is rather self explanatory, with the player having to get to the end of the race within the time limit, and without crashing more than a few times.
"Normal Race" is a standard dash across town avoiding traffic. "Time Attack"means the race needs to be completed within a set time. "Rush Hour" sees the player battle for a top three spot in heavier traffic than normal.
"Money Chaser" sees the player collect money icons."1 to 1" is the player verses a "powerful" opponent, and "Wheelie" sets the player a target of how far they must wheelie during a race. It's all nice and varied.
The tilt steering is surprisingly accurate, needing good use of the racing line to slingshot out of corners at speed. Talking of speed, the bikes move at a good pace.
The use of the boost button, however, doesn't seem to have been thought through. To use it the player must take their thumb off the accelerater to place it on the boost icon. Of course, when the boost runs out (which the player can't see) the bike starts to slow as the accelerater isn't being pressed.
The graphics are also rather basic, with a lot of track pop-up. The sounds effects are poor, especially the bikes and canned applause when the player finishes a race. There are also localization issues, with poorly structured sentences and even a typo on the developer's name.
With a few upates Streetbike: Full Blast HD could be a really good game. The foundation is there, but at the moment the lack of polish really affects the game.
[gallery]