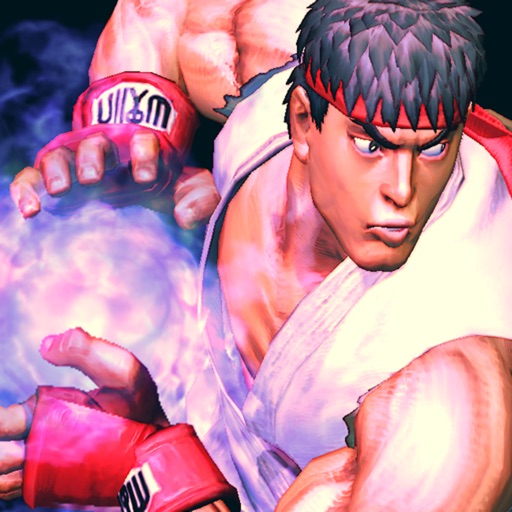 iPhone App
$4.99
Rating:
:: YOU WIN
At a fraction of the price of its console version, CAPCOM'S iPhone port of Street Fighter IV features beautiful graphics and visceral game play. The iPhone version is very impressive and remains loyal to the franchise, but its game play, while solid, do
Developer:
CAPCOM, USA Inc.
Price: $9.99
Version Reviewed: 1.00.00
Graphics / Sound
Rating:
Game Controls
Rating:
Gameplay
Rating:
iPhone Integration
Rating:
User Interface
Rating:
Re-use / Replay Value
Rating:
Overall Rating:
If Street Fighter IV's loading time is any indication of how good it is, playing it should summon unicorns, pixies and rainbows to my living room and my wife should exhibit an uncontrollable urge to hand-feed me cocktail sausages while I "labor" through the game's levels. It took 55 minutes to download the game. Will it live up to the hype?
CAPCOM boasts that Street Fighter 4 is the iPhone/iTouch's first true fighting game, featuring the same beautiful graphics and visceral game play the series is infamous for. Long-time fans (at the time I downloaded it [a $9.99 game mind you], it already had 73 User Ratings Reviews) can jump right into the action, while casual players can focus on training, using 1 of several settings and tutorials to hone their fighting skills.
Among it's feature-set, Street Fighter 4 advertises multi-player/head-to-head play via Bluetooth (not WiFi), eight Street Fighter characters in seven different environments, new move sets including Unique Attacks, Special Moves, Focus Attacks, Super Combos and Ultra Combos, a robust "Dojo" boot camp which transforms neophytes into Street Fighter masters in five in-depth lessons, customizable controls for your style of play (players can move the virtual buttons/joystick anywhere they want on the screen and set their level of transparency), the ability to unleash "super moves" with a tap of the "SP" button, or toggle it off from the "Options" menu if you want to enter the button combo manually and four levels of difficulty: Beginner, Normal, Hard and Grueling.
Street Fighter IV's animations, graphics and art-style are simply beautiful. To ensure the game's performance integrity, CAPCOM reduced the original game's impressive 3D models to sprites, a transition which is practically impossible to differentiate on the iPhone's screen. While a tad clunky at times, the animations are visually fluid and the game features the same art style, visual style and character move sets seen in the console and arcade versions. When starting the game, its cinematic intro is extraordinary, inter-weaving gorgeous hues of color and animation against a gorgeous, animated, black-and-white backdrop.
Street Fighter IV's Title Screen offers Solo Play (Tournament, Free-Sparring, Dojo and Training Room), Versus (Head-to-Head Bluetooth play), Stats (Stats), Invite A Friend (via email), Get More (opens Capcom iPhone webpage in Safari) and Special (Special Movie Footage). There are also Settings and Help icons:
For those of you who have the memory of a gerbil, like me, you can access the (moves) Command List for instructions on how to do moves by pressing "pause" from anywhere within the game.
Game play is fluid, but the "virtual touch" control scheme can take some getting used to, proving tricky to pull off moves/strikes requiring complicated thumb-stick/button-combo motions (CAPCOM claims ten months alone went into the unique virtual control system). After practicing in "Dojo" mode, I was able to navigate the game's virtual controls problem-free.
As stated earlier, the controls are customizable. Players can move the buttons anywhere they want on the screen and set/adjust their level of transparency, enabling them to adjust the controls in a manner which works best for him/her:
This was a very smart move/feature on CAPCOM'S part, because everyone responds to/uses touch controls differently, especially while engaged in a fast-paced duel to the death, so proper placement and comfort are key issues. While the touch controls may take some getting used to, I was able to navigate, i.e. pwn other fighters in no time, although I was playing on Beginner in the Dojo. Advanced controls will take some practice, especially during high/advanced levels of competition requiring precision. That said, my only concern regarding Street Fighter IV for the iPhone is a major one: its capability of offering the same game play depth as its console counterparts. Players able to master the game's virtual controls will reap the fruits of their labor, while those unable to will be exposed to restricted game play. There is hope, however, in the form of the Dojo mode, which allows players to practice/train until they gain the skills needed for advanced game play.
Multiplayer support is currently restricted to "Head-to-Head" battle, via Bluetooth. Hopefully, multiplayer via WiFi is on CAPCOM'S future update agenda.
Speaking of "restrictions," Street Fighter IV's current line-up consists of only eight fighters: Abel, Blanka, Chun-Li, Ryu, M. Bison, Dhalsim, Guile and Ken, all of whom possess different fighting styles, "special" moves and abilities. Hopefully, future updates will introduce additional fighters, whether as "unlockables," or in-app purchases (preferably the former).
All aside, I love this game. CAPCOM spent a lot of time developing it and it shows. Street Fighter IV for the iPhone/iTouch is a complete, quality port of its console counterpart that will appeal to both hardcore veterans and newcomers. It features a slew of extra/additional content and although the game currently features only eight fighters, as opposed to its console brethren, these fighters (with the exception of newcomer, Abel) are classic CAPCOM characters who have retained their classic moves/abilities.
Street Fighter IV's $9.99 price tag is indicative of its superlative quality and, considering you'll have Street Fighter IV at your disposal to play anytime, anywhere, it is money well spent. I highly recommend this game to any/all lovers of the Street Fighter franchise or anyone who enjoys a quality 2-D fighter.