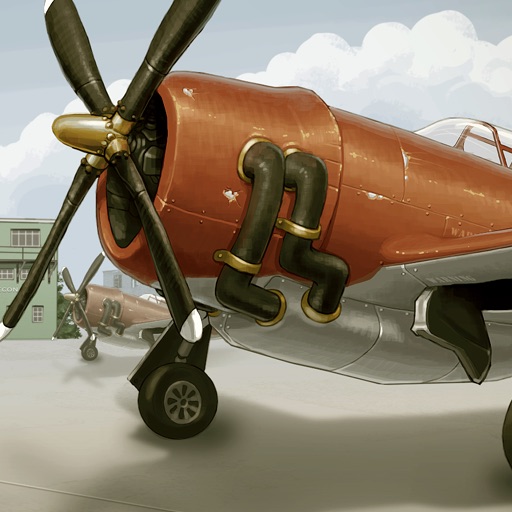 iPhone App
$0.99
Rating:
:: VANILLA
SteamBirds, from the makers of Canabalt, is fun for a time, but doesn't do enough to earn a spot with the App Store elite.
Developer:
Semi Secret Software
Price: $0.99
Version Reviewed: 1.0
Graphics / Sound
Rating:
Game Controls
Rating:
Gameplay
Rating:
Re-use / Replay Value
Rating:
Overall Rating:
Steambirds is a WW2 turn-based line drawing airplane shooter. All I can think of when I think of SteamBirds is trying to create a game like this in Game Dev Story. Even though the parts are all fairly popular, you just know that the "what an odd combination" screen would pop up.
SteamBirds is an odd app experience that is sort of like a cross between
Flight Control
and
1951 - World War One
. In the games bizarro world, Sir Albert Pendelton accidentally discovered low temperature fusion in 1835 and birthed an era of superheated steam powered airplanes, all equipped with a volatile nuclear hotbox. The story takes a nose dive after that though and jumps all over the time line, taking you from what I'm assuming is WWI to WWII and beyond. Events play out differently, like the Germans nuking Paris and gassing London, but the back story is all given through short text paragraphs. The real action is in the dogfights, which are all short bits from the critical moments of the time line.
Each level starts with a fairly large map over an unidentifiable location. The screen is usually filled with a few planes that are controlled by you and a few aircraft that are owned by the enemy. Weapons fire automatically and your planes have a predetermined range that they can fly each turn, so all you have to do is manipulate the movement arrow to where you want to go. Each turn has you and the enemy going at the same time, so you really have to outsmart the computer to get a good angle to unload your steam powered guns. Each plane, including the computers planes, are given a pair of special moves, such as a poison trail and a speed boost that can be used however you see fit. Like all games, once your plane takes too much damage, the game is over.
After a few levels of this turn based dogfighting I was yearning for something faster paced. The combat is overly tedious, and while it is a great challenge, it begs for something more. Part of me wants more realistic landscapes, part of me wants more control over the planes... I just want more. I don't want to paint SteamBirds as a bad game, it just lacks the intangibles that would make it really good. For a dollar though, it's hard not to recommend it to fans of the genre(s).