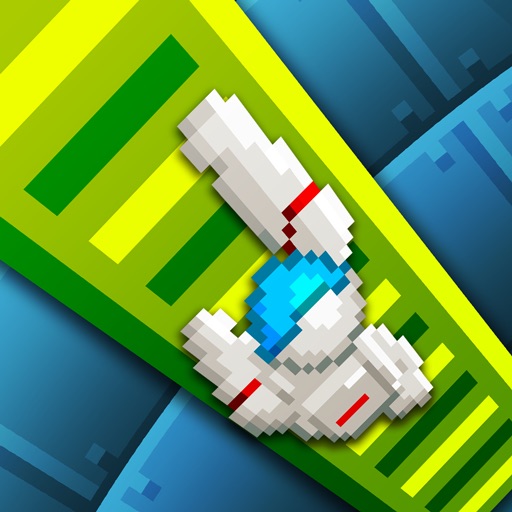 iPad App
$0.99
Our Review by
Dan Lee
on April 11th, 2012
Rating:
:: SPIN TO WIN
Use "DJ-like" gameplay to spin the scenery and defeat aliens!
Developer:
Nenad Katic
Price: $0.99
Version Reviewed: 1.01
Device Reviewed On: iPad
Graphics / Sound
Rating:
Game Controls
Rating:
Gameplay
Rating:
Replay Value
Rating:
Overall Rating:
Spin Up
is a high-score based game where the player spins parts of the level in order to progress. It gets extremely addictive, and the addition of unlockable characters adds to the longevity.
Spin Up takes place in the middle of the 21st century. While humanity goes about its daily business, their obsolete machines have been transformed into deadly AI. It's down to the player to save Earth.
The game starts with the player climbing a rapidly deteriorating shaft, which is in space. The player is restricted to climbing up using ladders, so to make this happen sections of the shaft have to be spun around so that ladders align.
To add to the tension, at frequent intervals the bottom section of the shaft will break away and drift off into space. It's a race against time as if the player is on the bottom section during that time it'll be game over.
If quickly spinning shaft sections wasn't hard enough, a number of obstacles are also placed in the way of the player. Orange coloured ladders are in extremely poor condition, and if the player hangs on to one of these for more than a few seconds it will break and fall away.
Some sections of the shaft are also locked and cannot be rotated. This means the player has to think quickly and spin other areas instead. There are also a number of enemies that inhabit the shaft.
If the player has picked up a weapons power-up they can use it against these enemies. If no weapons have been found the only other alternative is to quickly spin the shaft section in an attempted to get away.
Killing enemies and disabling computers all build experience points. These are used to unlock new characters, who each bring a new skill to the table. The initial character is pretty weak, but new ones will have a better jetpack, or the ability to carry two weapons at once.
Spin Up is a great game for fans of the genre. As with most high-score based games repetition eventually sets in, but trying to earn enough experience points for new characters should keep the player busy for a good while.
[gallery]