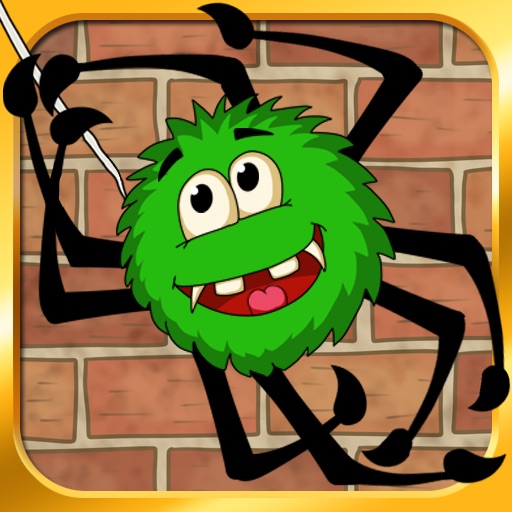 iPhone App
$0.99
Rating:
:: ADDICTIVE
Spider Jack offers Cut the Rope style gameplay with slightly more involving mechanics
Developer:
Chillingo
Price: $0.99
Version Reviewed: 1.0
Device Reviewed On: iPhone 4
Graphics / Sound
Rating:
Game Controls
Rating:
Gameplay
Rating:
Replay Value
Rating:
Overall Rating:
Spider Jack is a classic example of a casual game that works so well on iOS devices. Fans of Angry Birds and Cut the Rope might as well bypass the next couple of hundred words and just download it, they won't be disappointed. Indeed Spider Jack owes a lot to Cut the Rope with some very familiar gameplay afoot.
While in Cut the Rope, you cut the ropes, Spider Jack you have to traverse each level with your web, with a hint of cutting the webs to be seen too. It's very similar and players of the older title will immediately be at home here. Spider Jack expands on the Cut the Rope mentality to an extent as while you do cut webs, you also have to set them up in the first place adding an extra level of strategy in how to approach each stage.
As with many titles of this ilk, players have the added option of collecting up stars as well as simply completing each stage. Indeed, this is vital if you want to unlock new levels themes such as the Bathroom and Laboratory opening up after you've acquired a sufficient number of stars. In all there are 75 levels, each gradually becoming more complex than the last. Players swiftly have to learn to traverse more than just cutting the web at the right time, with the likes of electrical barriers, fans and teleports also getting in the way and requiring some very precise adjustments. Some levels are pretty challenging but in the typical addictive way that means players will continue to try again until they succeed. The blessing and curse of a game centered around such brief levels means that there's always time for 'one more go'.
For the price, Spider Jack offers just what fans of Chillingo's past games will adore. 75 levels is plenty to start out with and there's already a promise of new levels to be added in a future update. This one has enough potential to be as huge as its older siblings: Angry Birds and Cut the Rope.