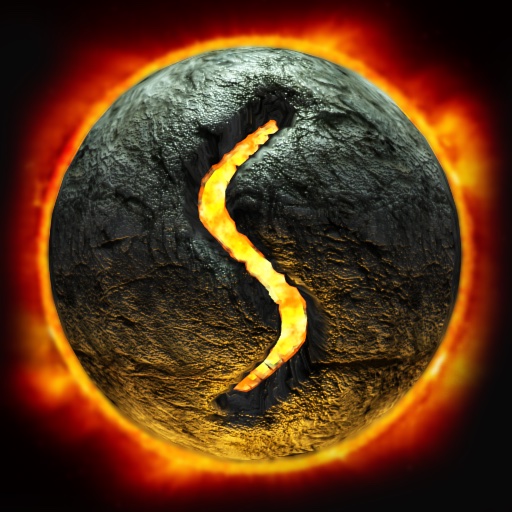 iPhone App
$2.99
Rating:
:: TRY IT LITE FIRST
Snakes on a 3D Plane. A beautiful but vapid diversion, which drags the old-skool cellphone game slithering and sliding into the 21st century.
Developer:
Dig Dog Studio
Price: 0.99
Version Reviewed: 1.0
Graphics / Sound [rating:4/5]
Game Controls [rating:3/5]
Gameplay [rating:2.5/5]
iPhone Integration [rating:3/5]
Replay Value [rating:2.5/5]
Overall Rating:
SnakeGalaxy is a beautiful looking game and deserves great praise for that. But its beauty is also its greatest problem - because this game is just that - only a much prettier version of the Snake you get on your old-skool mobile phones. It's Snake taken into the 21st century - attractive but boring.
In this game you have to guide a constantly moving icon (the icon changes relative to the mission's theme) with a tail, around a prettily decorated sphere, collecting rainbow colored objects. With each collected object your tail grows longer. Obviously, the longer the tail is, the more it gets in your way. Simultaneously, you need to avoid the objects placed in the landscape of each sphere. I say sphere, because that is the unique selling point of this particular iteration of Snake - it's in 3D. Your snake travels unstoppably around a little uniquely stylized globe. There are several different types of sphere including, amongst others, a basic geometric training sphere, a cobbled globe with a small cottage on it (yes, really), and a denim ball with rivets as obstacles.
As I've mentioned the most notable feature of this game is its graphics. It's obvious that a lot of effort has gone into the worlds - across which slithers your eponymous snake. The control system, too, could have been royally screwed up, but the developers have used the iPhone's touch screen to good effect: touch anywhere either side of the globe and the snake changes direction depending on where you've touched. It beats using the tiny buttons on a Nokia.
But, ultimately, this game is Snake with the word Galaxy added to it. Yes, it has been beefed up considerably in the graphical department, but it's still good old, bad old, boring old Snake.
As I progressed through the game I found myself wishing the level would end, hoping I had enough points to unlock the next world. I also reflected on how the gorgeous graphics could have been used to much greater effect in a different game. It's obvious the developers have talent, but I feel those talents would be better employed in a different concept. I'd love to see the spheres used in, perhaps, a quirky RPG, or a Super Mario Galaxy style platforming-fest.

So, SnakeGalaxy is not a bad game by any means. Gorgeous, fun for a bit, but lacking in the longevity and one-more-go stakes. At $0.99 this game is a cheap diversion, and there's a Lite version should you want to try it without laying down the cash. I'd recommend doing that, just to see whether this snake is one you'd like to keep in your pocket.