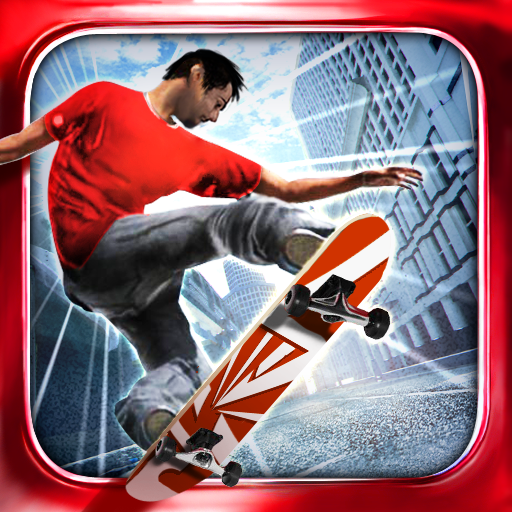 iPhone App
$2.99
Rating:
:: ALMOST PRO
This poor man's version of "Tony Hawk's Pro Skater" won't leave you doing backflips, but it does call for the occasional jumping high five.
Developer:
Gameloft
Price: $4.99
Version Reviewed: 1.2.1
Graphics / Sound
Rating:
Game Controls
Rating:
Gameplay
Rating:
iPhone Integration
Rating:
User Interface
Rating:
Re-use / Replay Value
Rating:
Overall Rating:
It's not fair to compare Gameloft's Skater Nation to Neversoft's classic "Tony Hawk's Pro Skater". Not fair at all, so I'm sorry, dear Gameloft, for any comparisons that may make their way into this review. Having said that, Gameloft does an admirable job, and based on what I've seen so far, has made the best skateboarding game in the App Store. That's not saying a ton, but it's something.
The game has eight characters, two of which must be unlocked. The skaters are a digital embodiment of the skater stereotype. If you could have a conversation with them, they'd tell you about how lame their parents are and how much the man sucks. Sick, bro. There are 11 boards, 8 of which you must unlock. The characters and boards all have their advantages and disadvantages. You can tell that there is a little difference between the characters, but nothing drastic.
With nine different areas to skate through, you'll find an awesome amount of variety in the environments, though lot of these areas are set up kind of awkwardly. A lot of them are too crammed with objects, and others will leave you feeling like you're trapped in Michael Moore's head; just way too much empty space. But the map as a whole is pretty good.
There are only two game modes; free ride and career. Career has you going around accepting challenges from a generic skater girl and guy. They'll ask you to skate for high scores against the clock, pull off crazy trick combos, find hidden objects, and other shenanigans. The objectives end up becoming a little bit repetitive, but there is just enough variety to stay interested for a good amount of time. As you complete more of the career you will be rewarded with new decks, wheels, and trucks. The controls are pretty simple. There is an "A" and a "B" button on the right side of the screen, and a virtual joystick on the left. The controls seem a bit unresponsive at first, but once you get used to their placement and use, things get a little bit better. The "B" button will allow you to switch your skaters stance, and "A" allows you to ollie (jump, for you less hip folks). Once in the air, the "A" button will allow you to perform flip tricks, and the "B" button allows you to perform grabs, manuals, and grinds.
Skater Nation is fun. The graphics are more than decent, though the soundtrack is, like a lot of the game, super generic. Generic rock, generic hip hop, generic rock/hip-hop. A lot of that. But in the end, all that matters is that the game is fun. It's also pretty cool that you can upload your best combos to YouTube straight from the game. The game's downfall is that it seemingly models itself after "Tony Hawk's Pro Skater" and it is most certainly not, but it gets close enough to keep a simpleton such as myself entertained. "Skater Nation" isn't the best game in the App Store, but it is the best skating game in the app store. Hang your hat on that Gameloft.