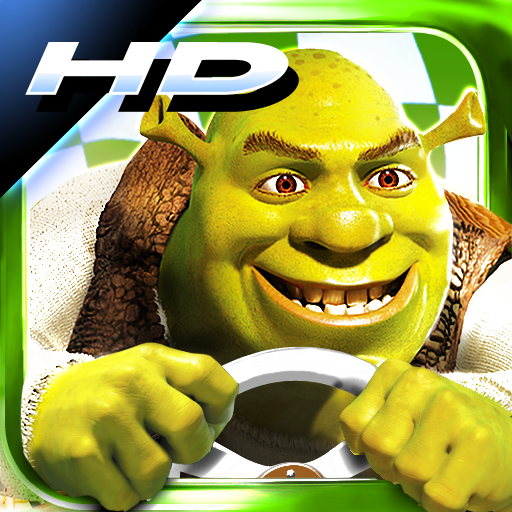 iPad App
$4.99
Rating:
:: RACING RIOT
Shrek Kart HD is a great addition to this more playful style of racing games. With several game modes and lots of different characters/maps, you'll find quite a lot of fun with Shrek Kart HD.
Developer:
Gameloft
Price: $4.99
Version Reviewed: 1.0.0
Graphics / Sound
Rating:
Game Controls
Rating:
Gameplay
Rating:
Overall Rating:
For those of you familiar with Mario Kart in any fashion, you can pretty much stop reading this review, because Shrek Kart is almost entirely built in that style of game. It's certainly not as deep as a fully developed console game, but it's got the same kind of enjoyable characteristics as that style of game.
For those of you who haven't played Mario Kart, you're in for a real treat with Shrek Kart. Unlike standard racing games, Shrek Kart dives into a more cartoony racing game, where power ups and weapons might win out over straight racing skill. Question mark blocks contain random power ups that help make or break a first place finish. Like similar games, more powerful power-ups are provided to those racers in the farther back spots, making it possible for less able racers to have a fighting chance.
Shrek Kart HD suffers from the same issues other racing games do in my opinion. It's difficult to use the iPad as a racing wheel all the time, and at certain areas in the race it's difficult to identify exactly where the turns are as the screen is readily turning. This is made a little easier with more defined graphics in the HD version, and doesn't necessarily make the game unplayable, it just convinces someone like me that console racing games are more suited for my play style.
Graphically, Shrek Kart HD fits the iPad well. The soundtrack is upbeat and keeps the game interesting, rather than just seemingly getting in the way. The opening scene is graphically impressive, and really shows off what the iPad is capable of.
Overall Shrek Kart HD is a fun and challenging racing game that won't set any standards, but certainly is good at what it does. Any racing fan will find it to be enjoyable, and fans of this style of racing game will find it to fully include the required elements to be fun, while including a couple surprises. You can check it out for $4.99 now.