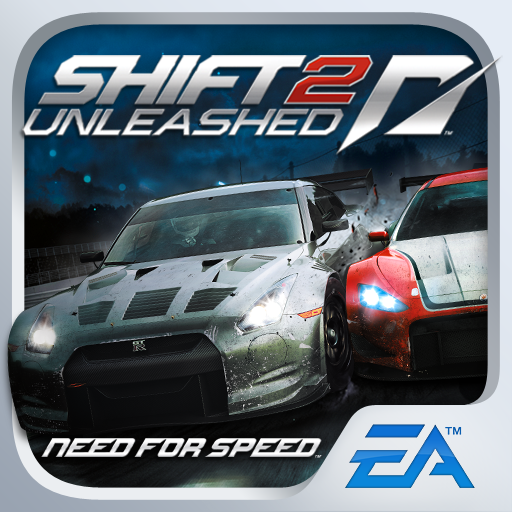 iPhone App
$1.99
Rating:
:: FAST AND SLEEK
The wait is over. EA's new Need For Speed console racer is out on iOS and it's hot.
Developer:
Electronic Arts
Price: $2.99
Version Reviewed: 1.0
Device Reviewed On: iPhone 4, iPad 2 (sold separately)
Graphics / Sound
Rating:
Game Controls
Rating:
Gameplay
Rating:
Replay Value
Rating:
Overall Rating:
EA's Need For Speed franchise grew by one on iOS with the release of the much-anticipated
Shift 2 – Unleashed
.
This racing game, or maybe sim is more apt, focuses on realistic racing. In NFS: Hot Pursuit, bashing through roadblocks and into cops is the way to go. To make progress along the 40 events in Shift 2 drivers need to stay on track, clearly indicated by a series of green arrows on the road, and avoid taking any damage.
The game has an amazing assortment of cars to choose from - 40 hot choices from entry level VWs and Mazdas to Lamborghinis and Porches and classic rides like a sweet Ford GT. EA offers up its own Team Need For Speed racers and my favorite which suckered me into to my first ever IAP, the Bugatti Veyron 16.4 - all rendered with rich detail. Like, look in the rear view mirror-real.
Nitrous boosts can be added to most vehicles along with other performance enhancements and some nice custom accessories. Players earn in-game currency as prize money to upgrade, or if they are impatient to get to the big-ticket items as I was, everything is unlockable for a fee in-app.
They packed this title full of different racing challenges, the core of which is career mode. But there are also quick races, single and local multiplayer events and more. Even within career more, there are a variety of different racing challengers: completing clean runs, drift challenges, sprints and standard multi-car circuit runs – enough to please almost every type of driving gamer.
What EA seems most excited about, however, is the inclusion of their Origins social gaming network. This isn't another Game Center or Openfeint - Origins is their proprietary cross-platform network, which they sneaked into Scrabble, but is otherwise new to iOS with this release. The operative term here is cross-platform, which means leaderboards and challenges are open to any player on any console or device.
There are a variety of international racing locales three of which are new to this release: Rio, Abu Dhabi, and Germany's Black Forest. The detail, especially on the larger iPad screen isn't quite console quality, but it's close, and I'm in like with the little touches that enhance the sense of speed, especially the rumble effects – the tactile feedback the game provides when a careless driver hits a wall on iPhone.
My favorite feature is the multiple camera views. There are two standard dashboard cams, and an external view, that shows off the graphically rich setting. In addition to three regular viewpoints this game boast new "Helmet Cams," which gives that right in the cockpit feel fans of Real Racing know well.
The gameplay is easy – maybe too easy. I'm not the world's best racer, but barrelled into Class B in no time due to auto acceleration, auto-braking, auto everything, but steering, which is precise. And, the game is fair, my Bugatti doesn't get to run in Class C events. Don't misunderstand, for me that's a good thing, and serious players can disable many of the auto-functions, but a hard-core racing challenge this game is not.
That's the good and there's a lot of it. This is a highly refined, responsive and polished racing sim, worthy of the franchise name. But, it doesn't bring anything really new to the table.
I want to say the graphics blew me away, and on an iPad 2, they did, but I'm not sure if there is a lack of retina support, or it was a matter of haste, but the images just don't seem as crisp as they should and the text is fuzzy on my iPhone 4.
The soundtrack is always playing and unless one happens to be into generic teen-rock, it's weak.  I think they are real pop-rock tunes, but there were none I cared for enough to break out Soundhound and identify. Rather, I went straight for the "make it stop" option and I suspect racers over 25 will do likewise.
My biggest beef is the multiplayer action is local only. I'm hoping this was oversight and online competition will roll out in an update soon. And, during that update there are some stability issues to be addressed. Though infrequent, the game did crash several times on both devices.
That said, the sumptuous feast of cars, the variety of different racing challenges, high production value along with simple brand recognition assure Need For Speed – Shift 2 – Unleashed will race to the top of the charts - where it deserves to be.