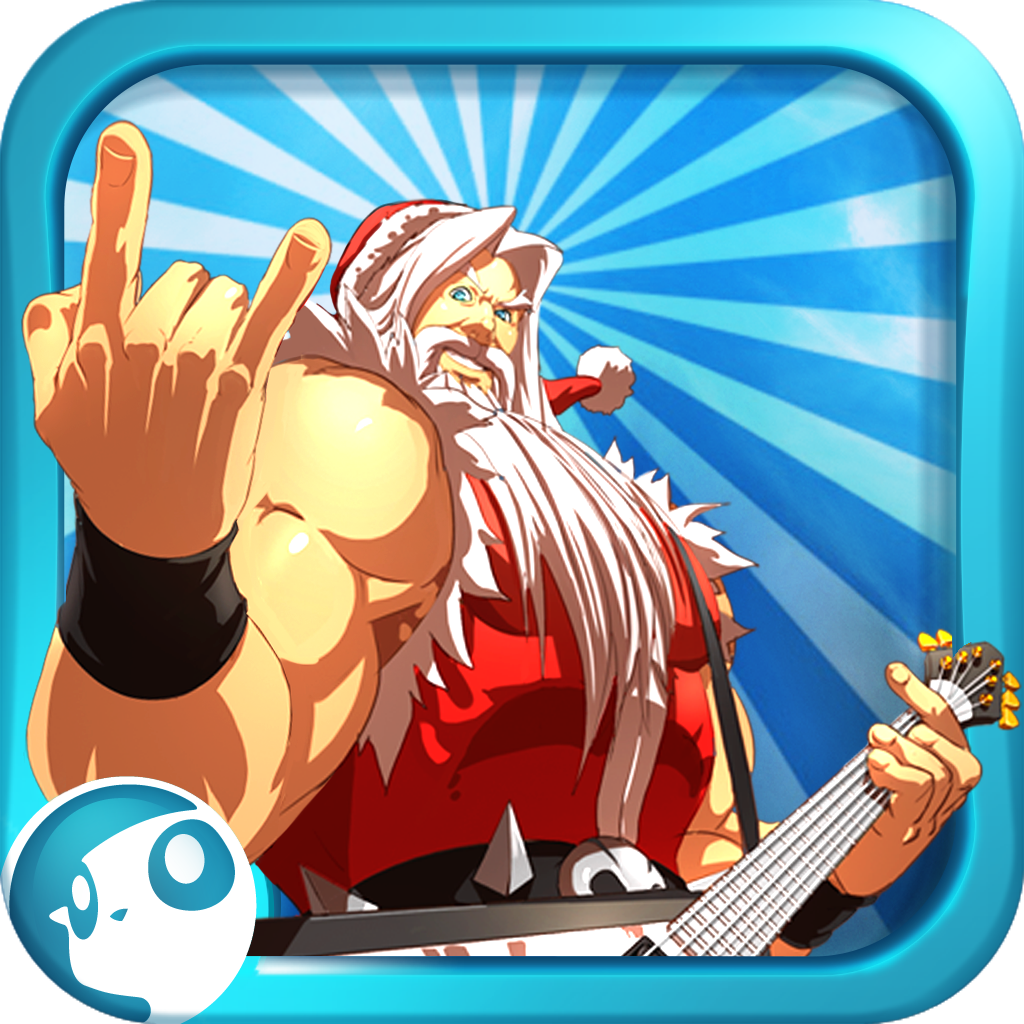 + Universal App
FREE!
Rating:
:: ROCK OUT
Santa Rockstar is a Guitar Hero-style game that'll have gamers head banging to their favorite Christmas tunes.
Publisher:
Clarin Global S.A.
Price: $0.99
Version: 1.0.0
App Reviewed on: iPad 2
Graphics / Sound
Rating:
Game Controls
Rating:
Gameplay
Rating:
Re-use / Replay Value
Rating:
Overall Rating:
Guitar Hero fans can finally rejoice, at least during the Christmas season. While the popular game series may have slowly faded from many gamers' memories, it's still a classic favorite. Santa Rockstar brings the rhythm style of game back to life on iOS devices, and it's definitely a rockin' good time.
Gamers must help Santa and his hip reindeer band save Christmas with the power of rock by playing popular songs like Jingle Bells, Silent Night and Joy to the World. Don't' worry because they aren't the normal Christmas tunes. The game only includes the heavy rock versions.
Players take Santa's guitar and rock through five different stages around the world to deliver presents. There are three popular Christmas songs in each stage. Since the game sticks with the Guitar Hero-style, there are also three difficulty modes to play. If this doesn't sound like enough guitar action, Santa Rockstar even includes two extreme worlds to unlock with require either an in–app purchase or beating all the tracks with five stars on normal and hard modes.
The gameplay is rather responsive. Players tap on the corresponding colors whenever they float to the front of the fret board in order to shred their guitar. Some notes will need held while others must be tapped quickly. Earning combos and hitting the notes accurately earns rock power. Players can build up their rock power and use it to achieve a higher score by either tilting their iOS device or tapping outside the play area.
It's possible to see stats at the end of each song. High scores can be shared through Facebook and Game Center so players can compete with their friends. In addition to achieving high scores, gamers must also work hard to earn the money. The money is used to purchase new characters, pedals and picks as well as amps to boost performance. There are in-app purchases for coins, but they are only there for those who are impatient.
Santa Rockstar is quite similar to Guitar Hero, but that's not a bad thing. The 3D graphics are impressive, the re-mastered holiday songs sound great and there's plenty of replay value. I only wish that there was a multi-player mode to make the game more fun to play with friends, but not having one isn't a deal breaker.
Overall, Santa Rockstar is definitely worth adding to the Christmas wish list—especially if gamers have always wanted to see Santa pierced, tattooed and ready to rock. Kick back with song eggnog and get ready to party all night long with Santa and his hardcore reindeer band.