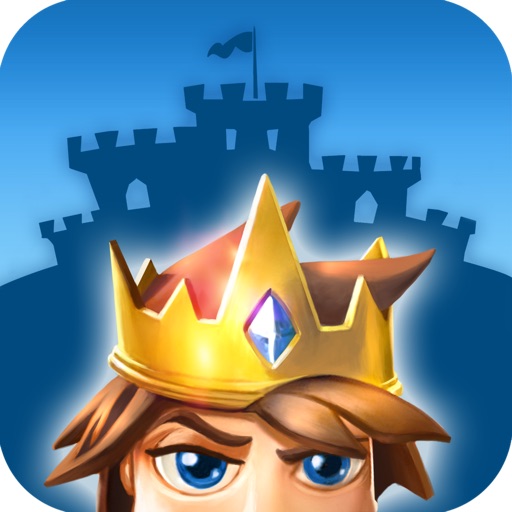 + Universal App
FREE!
Our Review by
Eli Cymet
on September 27th, 2012
Rating:
:: LET THEM EAT SPIKES
After a usurping of Shakespearean proportions, one brave hero goes on a tower offense to wrest the kingdom from his aunt and uncle's clutches!
Developer:
flaregames
Price: Free, with in-app purchases
Version Reviewed: 1.1.0
Device Reviewed On: iPad
Graphics / Sound
Rating:
Game Controls
Rating:
Gameplay
Rating:
Replay Value
Rating:
Overall Rating:
There's no bigger annoyance than having overbearing relatives come for a visit. Except, perhaps, if those relatives were to move in. Such is the plight at the center of
Royal Revolt!
, where players return from magical boarding school to find their father's kingdom torn asunder, and his ugly brother and sister ruling the roost. Thus begins an epic quest to kick them out of their stolen digs, and take back the throne. Think of it as a medieval eviction notice.
This one's a castle crasher, alright. Absent of control over the castle, however, Royal Revolt! emerges as a clever reversal of the genre's tried and true formula; a tower offense. Players drag to guide the kingdom's hack-and-slash hero towards each level's castle, against an onslaught of enemies, towers, and traps. Helping out are staples no knight could do without: soldiers, archers, mages, and ballistas, all of which march automatically into the fray. It's a role reversal that proves that the grass may just be greener on the other side.
Where tower defense often veers into 'set it and forget it' territory, Royal Revolt! ups the ante on player agency. Pre-meditation is still important - soldiers are your bread and butter, mages are long-range power hitters that you need to keep safe - but the ability to zip around the field plugging holes in your offense makes each level truly feel like a battle. This is especially the case as the game adds a host of traps to disarm, and substances that prove weak to specific magics. Part melee action, part on-the-fly tactics, Royal Revolt!'s gameplay is the perfect example of walking the razor's edge between new tricks and old staples.
Fitting, for a vibrant game world ripped simultaneously from a classic fairy tales and modern RPGs.
Royal Revolt!
doesn't succumb to modern freemium tactics either; each level rewards you plentifully with the gold needed for upgrades, and daily play bonuses are generous. Occasionally, developer flaregames finds themselves on the wrong side of the fine mechanical balancing act, with portions of the game feeling too easy, and others immediately feeling needlessly grinding.
With so much going for it though, it's hard not to urge gamers to pick up their sword and fight for the crown. Or at least pick up their mobile device. That's probably safer.