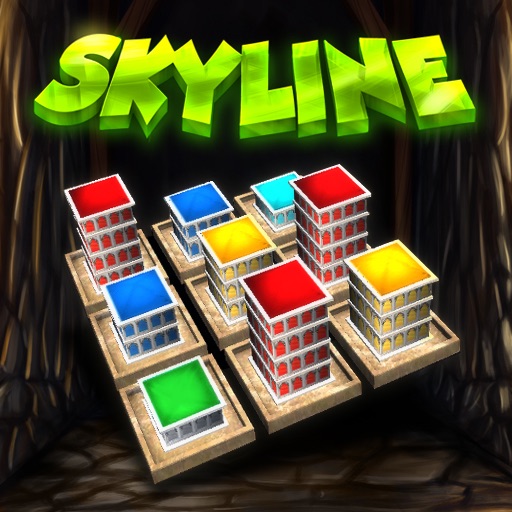 iPhone App
$0.99
Our Review by
Rob Rich
on February 17th, 2012
Rating:
:: ALWAYS BET ON KNIZIA
It's Sudoku-meets-urban planning in this bizarre amalgamation of App Store talent.
Developer:
Aidem Media
Price: $0.99
Version: 1.0
App Reviewed on: iPhone 3GS
Graphics / Sound
Rating:
User Interface
Rating:
Gameplay
Rating:
Re-use / Replay Value
Rating:
Overall Rating:
There are plenty of names on the App Store that instill a sense of confidence, both in the quality of a product and the quality of the experience. Most of these names are of development teams or publishing houses. Very few of them belong to a sole individual. Reiner Knizia is one such individual, cranking out supremely clever and high-quality board/card games without fail.
Reiner Knizia's City of Secrets Skyline
is certainly no exception.
Reiner Knizia's City of Secrets Skyline is an iOS adaptation of the board game that incorporates visual elements from the up-coming City of Secrets 2. The latter basically amounts to mere cosmetic variations, but the former requires a bit more explanation. Completing a stage requires players to place buildings in a grid, effectively creating a kind of city block. The catch is that certain rows and columns are numbered. These numbers indicate how many buildings should be visible from "street level." There are a number of different buildings that range in height, but only one of a given kind of structure can be placed in a row/column. In other words it's very much like Sudoku, only with buildings.
Fortunately there are some simple and clever systems in Reiner Knizia's City of Secrets Skyline to help players along. Not just hints, either. Swiping the screen will rotate the board, and leveling everything out in order to better make out what building are visible where can be very useful. Similarly, rotating the board for a top-down view will produce numbers on each building to represent how many floors it has. In other words, players are always aware of the current situation. It's also just as frustrating and habit-forming as its number-focused cousin, which I mean in a good way. It's got plenty of levels (56) ranging from easy to ridiculously tough, so it should keep puzzle hounds busy for a while.
I
did
notice that the rotation interface wouldn't register properly on occasion. It's works fine with small swipes, but broad gestures tend to confuse it and can even spin the board in the exact opposite direction from what was intended. It's also somewhat disappointing that there's a finite amount of content to enjoy, at least right now. All levels have a single solution and there's no scoring system in place so there's almost no incentive to replay completed puzzles. I know "56" is a sizable number of stages, but they're going to end eventually. I suppose I'm just bummed because I've been having so much fun with it and don't want to run out of stuff to do.
Reiner Knizia's City of Secrets Skyline can be a major head-scratcher at times, but that's what makes it so great. Anyone who gets a kick out of filling grids with things (numbers, boxes or otherwise) will undoubtedly enjoy it.