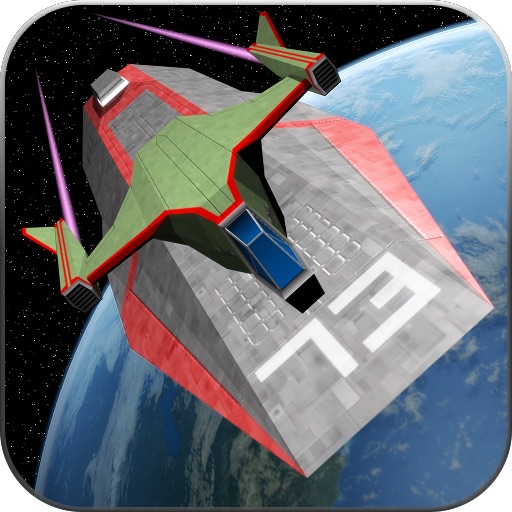 + Universal App
$1.99
Rating:
:: GOOD STUFF
There's a lot to like about Red Nova; it sweats the little details, and whilst it may not last for long it's certainly good fun.
Developer:
Celsius Game Studios
Price: $0.99
Version Reviewed: 1.0
Device Reviewed On: iPhone 3GS
Graphics / Sound
Rating:
Game Controls
Rating:
Gameplay
Rating:
Replay Value
Rating:
Overall Rating:
Red Nova is not another one of the dual-stick shooter breed; it's more akin to Asteroids and other titles that use inertia based control schemes. Yet its gameplay is fairly similar; shoot to kill whilst dodging enemy fire and scurrying around the map looking for power-ups. So nothing totally new, then. What is different is that this polished production is coming from a one-man studio, that has been working tirelessly on releasing a professional title; Red Nova incorporates a whole slew of features that make the game a much more pleasant experience.

These features fall into several different groups; there's the platform must-haves, like freeze game state, application fast-switching, retina display graphics and iPod library playback; some nice to have features that aren't necessarily missed if they are absent; Game Center integration, screen orientation detection/rotation and the fact that the app is a universal binary designed to run on all iOS devices; and rare features that surprise and delight players such as using the iPhone/iPod touch to control an iPad playing the game. Considering that the game touts all of these features shows how much commitment and effort has gone into making the product better.
The upshot of that is that Red Nova is not necessarily a long title; players embark on a survival mission in order to give the ECS Red Nova a chance of escaping the clutches of an alien fleet, a mission that players will always complete as it is just a pretext used to sell the concept of the survival shooter. Indeed, even if one's craft is left floating in space and destroyed without a single kill on the board then the mission will still be complete. So like in most games, the story doesn't matter, which is good because the long blurb displayed before you begin is an effort to read, given the size and style of the font.
Thankfully, the gameplay is great fun, made even better with the intelligent touch controls that react to finger placement rather than being fixed in place on the screen. These controls are based on thumb and finger swipes rather than taps and so the whole feel is very natural; placing a thumb on the left hand side of the screen initiates a left hand thumb-stick whilst the right side initiates the firing mechanism—sliding this thumb upwards uses the current power-up, whilst sliding it to the left unleashes a barrage of homing missiles depending on how much energy is left and how many enemies are on the screen.
As each homing missile costs 1 energy and players earn 1 energy after each successful kill, it's entirely possible to spend the game just using the missiles and not bothering with the power-ups; one can even expend energy to raise the shield level should damage be sustained. True, enemies come thicker and faster as kills are racked up but this usually results in even more energy handed over. What Red Nova really needs is a proper scoring system that rewards fast kills and more points for taking out tougher enemies, instead of just tracking the overall kills; destroying the small spiked canisters is much easier than a ship with a laser cannon.
Furthermore, it could benefit from at least a rudimentary use of the achievement system provided in Game Center; the high scores are already being used so it would make sense to come up with a handful of achievements to extend the longevity of the game. Of course, the developer is promising updates if players support the game with sales, but I cannot review based on promises; Red Nova therefore doesn't score too highly in the replay department.
Evidently, Celsius Game Studios have come a long way since the release of Chromodyne; Red Nova is polished and good fun albeit on the short side. But that shouldn't dissuade players from picking it up for $0.99; those who do will be rewarded with a game that has every small detail covered. From the superb control scheme to all of the small enhancements mentioned earlier in the review it is clear that Red Nova is, indeed, a very professional product.