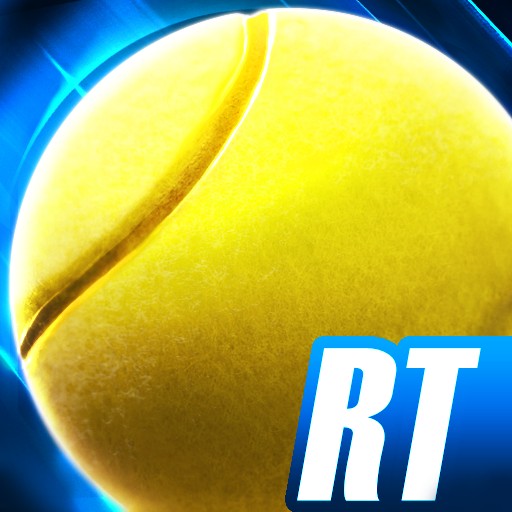 iPhone App
FREE!
Our Review by
Will
on June 17th, 2009
Rating:
:: DOUBLE FAULT
Gameloft's Real Tennis 2009 may be the best looking Tennis game on the App Store, but it gets just about everything else wrong. Frustrating controls and horribly balanced gameplay make this one an app to miss.
Developer:
Gameloft
Price: $4.99
Version Reviewed: 1.1.2
Graphics / Sound
Rating:
Game Controls
Rating:
Gameplay
Rating:
User Interface
Rating:
Re-use / Replay Value
Rating:
Overall Rating:
I love tennis games, so I really wanted to like Real Tennis. I really did. From all outward appearances, it could've been a good game. But once you actually start playing Real Tennis, it becomes readily apparent that Gameloft missed the mark.
From its feature list, Real Tennis sounds great: eight different players, three different surfaces, and a career mode. Each match will take 15-30 minutes, so with three rounds in each tournament, there is plenty of play time. Why anyone would want to play through everything in Real Tennis, though, is beyond me. There are so many things wrong with the gameplay. First, serving is incredibly unbalanced. Once you pick it up, you'll get an ace every time, and on any but the easiest difficulty, the AI will win 90% of their service points as well. As you can imagine, this makes for very boring games. Overall, the shot mechanics also seem off. Your player almost never makes a mistake, so there is no risk in executing what would normally be dangerous shots. In addition, you can't hit the ball out sideways, so you can just aim as far to one side as possible and you'll hit near the sidelines every time. Another huge problem is that your player is simply sluggish. Even the fastest character is slow to respond to commands and takes forever to move anywhere, making things like net approaches nearly impossible against most opponents.
The controls are only slightly better than the gameplay. Gameloft offers two main movement methods: d-pad and analog stick. Using the analog stick is virtually impossible, and you will rarely win points doing so. The d-pad is slightly better, and once you learn to use it, you can move around semi-effectively, but you'll send your player in the wrong direction on a regular basis. A "touch-anywhere" method would have been much more effective. A virtual button let's you swing, and holding it down increases your power. Once you have started your swing, you can aim using either the d-pad or analog stick, both of which work relatively well. The game boasts a variety of shots, such as lobs and slices, however you'll almost never use these shots, as the swiping gestures used to employ them are too hard to execute in the heat of the game. The serving mechanic is also strange. First, you use the accelerometer to aim. Next, you can employ one of two methods, each involving correct timing to maximize the power bar: either swinging the iPhone up and then down in a Wii-esque fashion, or using a series of taps. Aiming with the accelerometer is a chore, and I absolutely hated the accelerometer swinging mechanic. These two additions felt like Gameloft was just saying, "Hey! Look! We use the accelerometer," without any thought to how it actually worked in the context of the game.
The graphics are one thing Real Tennis gets right. They're not spectacular, but the characters are nicely modeled in 3d, and the environments are fairly crisp as well. Animations are decent, and the blurry slam animation is actually pretty neat. There is no music except in the menus, and sound effects are decent, though the repertoire is severely limited.
If you're not a tennis fan, don't get this game. If you are a tennis fan, still don't get this game. The graphics are nice, but once you hit your first serve, you'll find it an unplayable mess.