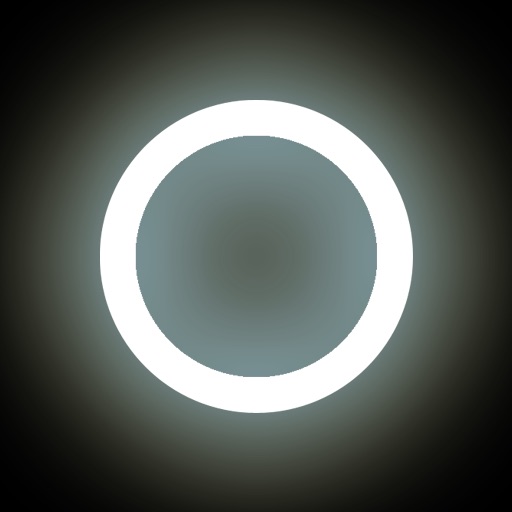 iPhone App
FREE!
Rating:
:: ETHEREAL
A new, bright, simple yet challenging game with nearly flawless tilt controls.
Developer:
Shock Games, LLC
Price: $0.99
Version Reviewed: 1.0.1
Device Reviewed On: iPhone 4S
Graphics / Sound
Rating:
Game Controls
Rating:
Gameplay
Rating:
Replay Value
Rating:
Overall Rating:
In
Radia
, players control a little white circle and they collect white dots. It doesn't get much more simple than that. Still, this is not a criticism. The simplicity of this game allows for a clean, unadulterated experience and it also gives players the chance to focus on the challenging gameplay instead of overwrought visual effects or complicated control schemes.
Radia is broken into levels -- currently there are 50 with more in development -- and in each level the player must collect a certain number of white orbs to move on to the next level. This must be accomplished within a time limit and without running into spinning neon enemy saws that bounce randomly around the screen. Each level has a different number of orbs to collect, and levels also have distinct layouts that increase in complexity as the game progresses. To get the maximum number of stars for each level the player has to collect every orb in time, but if they collect enough stars they can advance to the next level.
The game also includes other arcade modes like a timed and endless modes. In timed mode, players try to last for as long as possible while avoiding saws that increase in number and speed. This mode has four difficulty levels ranging from easy to extreme. In endless mode, players try to collect as many orbs as possible before they get caught by the saws. Orbs collected in quick succession create combos and increase the players score multiplier for higher scores.
The visuals and gameplay of Radia are super simple, rudimentary even, but they are still very entertaining. What the game really does best is controls. The tilt controls that players use to move their circle around and navigate it through tight spots is the perfect balance of sensitivity and precision. Thanks to these easy, intuitive controls Radia is easy to enjoy, making it a great game to zone out and relax with.