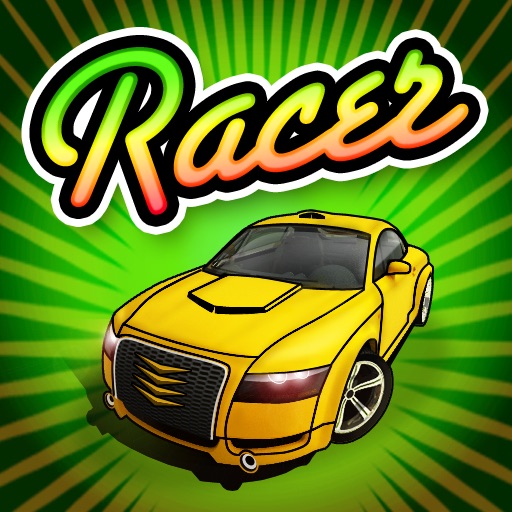 iPhone App
FREE!
Rating:
:: RECOMMENDED
Racer is a beautifully graphic game from a new developer Tatem Games. This game has a lot of style, but a little room to grow in functionality. It's not a bad game though and its style alone is enough to encourage playing it.
Developer:
Tatem Games
Price: $0.99
Version Reviewed: 1.0
Graphics / Sound [rating:5/5]
Game Controls [rating:3/5]
Gameplay [rating:4/5]
User Interface [rating:4/5]
Replay Value [rating:4/5]
Overall Rating:
Intro
Racer is an incredibly easy game to get into. From the moment you first open the app you'll be drawn into its unique graphic style. There's a lot of detail put into it and this shows in transitioning pre-game screens to the shifting angle of the car as it careens down the freeway.
Gameplay
The only thing you have to do to play this game is drag your finger on the road and the car obediently tracks with you. It's deceptively easy to play. The challenge comes in as you have to avoid increasing numbers of cars and the haphazard way in which these bozos are driving.
The most basic tip I can think of to play this game is, strangely enough, a defensive driving tactic: avoid wolf packs (this is a term I learned describing driving with a group of cars around you). Other than that, clean your screen and start driving.
Pros
This game is beautiful. I was going to put a lot of screenshots on here to show that, but realized it would be missed, so watch the video. I love the style in this game.
The game play is also really clean. You race, you crash, you get lives, you crash at a higher ratio than getting lives, your game ends. That's it. You can sync your score to get a global ranking too. Good stuff.
Cons
There was something that just didn't feel right about the touch sensor on this game. The car jutted just a little ahead of my finger, which I liked, but there was something in the movement that just didn't feel quite right. I know this is vague, and subjective, but it's something that made an impression on me.
Conclusion
This is a 1.0 and can only get better. Maybe the developer will incorporate some bluetooth or online racing features? That would be sweet. This is a fun game and while it's not too addicting for me, it will be for a lot of people. Check out the video and if you're the least bit intrigued, go for it.
[gallery link="file"]