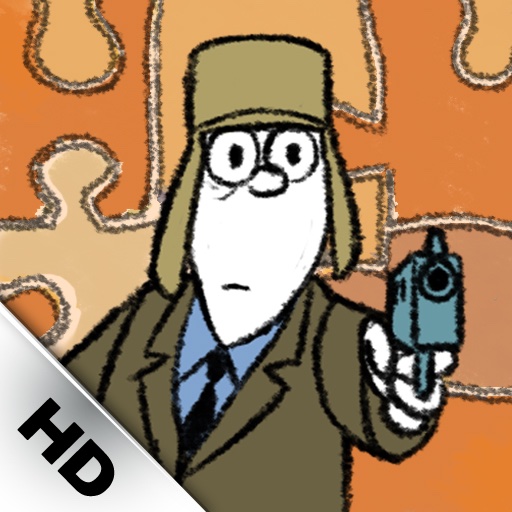 iPad App
$2.99
Rating:
:: WORTH INVESTIGATING
Classic puzzle gaming with a seriously sly sense of humor is making a comeback!
Developer:
TELLTALE
Price: $6.99
Version Reviewed: 1.1
Device Reviewed On: iPad
Graphics / Sound
Rating:
Game Controls
Rating:
Gameplay
Rating:
Replay Value
Rating:
Overall Rating:
If you long for the good old days of Lucasarts point-and-click adventure games, you might want to give Puzzle Agent a try. It's not exactly the same thing, but the warped, sardonic sense of humor, the stylized graphics and the wide variety of puzzles make it intriguing for anyone who remembers the glory days of Day of the Tentacle.
You play as Nelson Tethers, an FBI agent who serves in the Department of Puzzle Research. From the look of things at the start of the game, Nelson doesn't do much except sit at his desk and chew gum, but a request to investigate a series of odd occurrences at an eraser factory sends him out into the field and into an oddball small town.
You never know when or where a puzzle is going to appear throughout Puzzle Agent HD. It may be to help you locate your hotel room key or to travel from point A to point B. Puzzles range from decoding to jigsaws, and the early ones are particularly easy. Later in the story, though, expect to be mentally taxed. If you collect wads of gum throughout the game, you can cash them in at various points for hints to help you solve particularly confounding puzzles. It's a clever design, and it certainly keeps the theme consistent throughout the game. Completing a puzzle is also very gratifying, as you see your solution travel across the country and receive a (hopefully) "Approved" stamp from your supervisor.
If there is a downside to Puzzle Agent HD, it's that it's really too short. With as much style and substance as the story and the puzzles pack, you'll want this game to last a while. Unfortunately, it doesn't. The actual ending you get in the game isn't much of an ending at all, as the game abruptly ends. With any luck there will be additional missions or games added to continue and complete this story.
Complaints aside, this is a great-looking game with a compelling storyline, good voice acting and intriguing puzzles. It may not be Monkey Island, but it certainly points the way for iPhone/iPad developers to embrace the best parts of old-school game design.