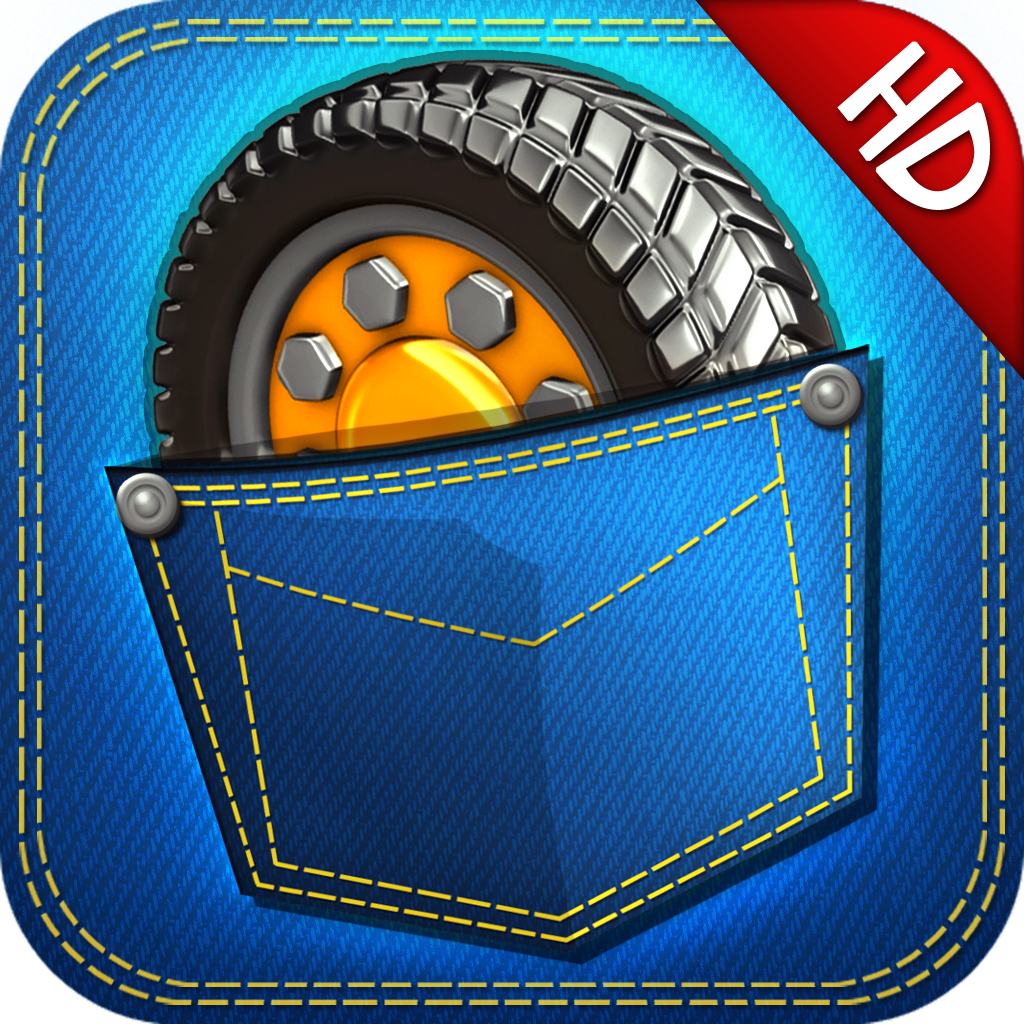 + Universal App
FREE!
Rating:
:: HECK YEAH
Pocket Trucks is a side scrolling physics racer that is almost impossible to stop playing.
Developer:
GameLab
Price: $0.99
Version: 1.1
App Reviewed on: iPad 2
Graphics / Sound Rating:
Rating:
Game Controls Rating:
Rating:
Gameplay Rating:
Rating:
Re-use / Replay Value Rating:
Rating:
Overall Rating:
Pocket Trucks is a physics-based racing game that takes players on a variety of racing events that range from time trials and trick modes to races against other trucks. There are many power-ups packed into the 38 custom tracks that take place in 15 different themes. Players who are fans of racing games will definitely get a kick out of this title.
The race tracks aren't exactly professional as the theme is more about trucks you'd find in a child's room. From cardboard boxes to dinosaur bones, everything is scaled down and miniaturized. While Pocket Trucks is a suitable name for the environments that players encounter, Rocket Trucks sounds more appealing due to all the power-ups scattered across the levels. There's insane loops, rocket jumps, springs and many more action packed features that keep the game from going stale.
The truck is controlled by the left and right arrows on the right side of the screen. Holding down these buttons moves the truck either forwards or backwards. The rotate buttons on the left allow players to do front or back flips as well as help stabilize their truck. When power-ups are picked up in the small trinket boxes, the buttons appear above the rotate options. The power-up must be tapped on at the right time, otherwise players may crash to their death or come in last place.
Gears are collected on each level which go toward helping players level up and they can also be spent in the garage to design and upgrade trucks. Along with collecting gears, players must complete each course in a certain amount of time and perform flips to earn more experience points. Excelling well at all three of these earns gamers three stars on each course, which are used to unlock levels.
IAPs are usually a deal breaker for me when it comes to enjoying a game. While there are IAPs for bolts and coins, it didn't seem necessary to purchase them. It was possible for me to collect enough to upgrade and customize my vehicle often.
The only issue that bothered me is that it takes too long to restart a level. When players tap on restart, the level has to load again. I'm an impatient person so it was a little frustrating at times to wait, but this isn't a really big issue.
Pocket Trucks is a rockin' good time. The graphics are outstanding, the game play is smooth and all the action makes it impossible to put the game down. I loved how fast-paced it is, and there's a lot of replay value packed into its low purchase price. This is definitely a game that I highly recommend for everyone to download. What are you waiting for? Get the game and start tearing up some tracks.