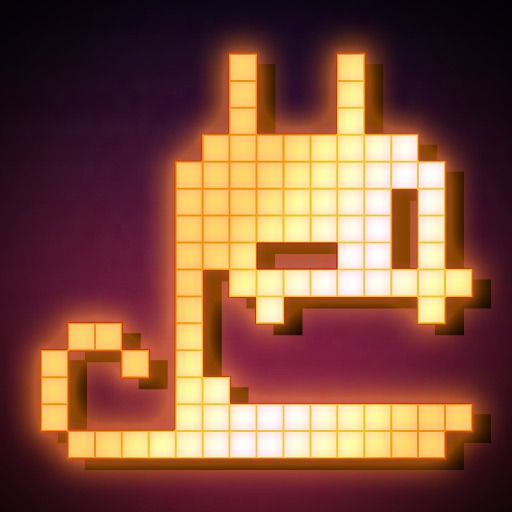 iPhone App
$0.99
Rating:
:: LOVELY
Pix'n Love Rush is a great addition to the crowded endless platformer genre on the iPhone, complete with a fantastic retro style.
Developer:
Bulkypix
Price: $0.99
Version Reviewed: 1.1
Device Reviewed On: iPad, iPhone 3G
Graphics / Sound
Rating:
Game Controls
Rating:
Gameplay
Rating:
Replay Value
Rating:
Overall Rating:
Pix'n Love Rush is an endless platformer that is comprised of random arrangements of level segments in which you attempt to destroy enemies, all while not taking damage by hitting enemies or falling off of the screen and avoiding the negative value coins. You want to increase your multiplier by collecting those coins and destroying all the enemies in a level, as this is a game all about attaining high scores.
At first, you'll just be trying to survive the whole 5 minutes in the accurately-titled 5 Minute Mode. As you start to learn the layouts of certain level segments and how your jumping and firing physics work, you'll learn how to keep your score multiplier very high and complete sections perfectly, granting you lucrative score bonuses. You'll soon creep closer and closer to the 1,000,000 point barrier that will unlock the game's Infinite Mode, which goes on until you die and features a different set of themes than the 5 Minute Mode.
Of course, talking just about the gameplay does a big disservice to the game's graphics and sound, which are all inspired by retro gaming, particularly '80s and early 90s handheld gaming, and the game's graphics and sound radically transform as you increase your multiplier, like one theme that resembles the original Game Boy, complete with green backgrounds and grayscale characters. The game also looks especially fantastic on the iPad in 2X mode; there's an iPad version in development, but even if you just pick up the current iPhone release, it is perfectly playable and still exceptional visually on the iPad, as well as having the benefit of being playable across multiple devices.
The biggest issue with Pix'n Love Rush is that the graphical effects can get to be very distracting, particularly when you transition from one to the next, as the color schemes all change and it may take you a second to reorient yourself, and considering how often the game requires twitch precision, you can't afford to be thrown off like this. It takes a lot of time with the game to get used to the distracting transitions. As well, your scores don't submit to OpenFeint unless you get a million points, and the OpenFeint menu is buried as a tiny button in the High Scores menu.
However, Pix'n Love Rush's initial visual distractions don't detract from the game's innate quality. The game is visually a treat when it isn't distracting and its individually separated level segments differentiate it from other endless platformers. The game's difficulty is also set up in a way for you to be able to learn it and become good at it after a few plays, but mastery takes continued practice. Fans of retro gaming and endless platformers can't go wrong with Pix'n Love Rush's uniquely appealing package even in a genre that's becoming increasingly crowded on the App Store.