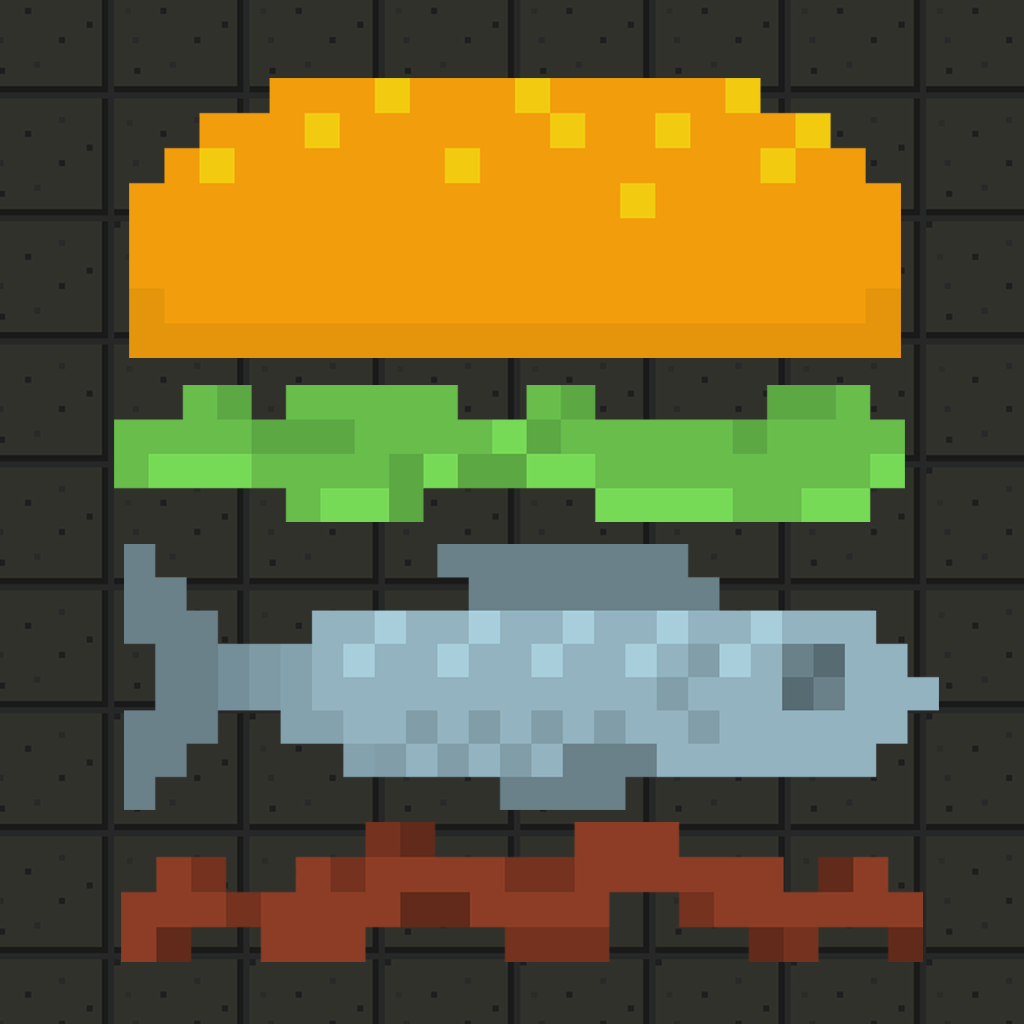 + Universal App
FREE!
Rating:
::
Pixel Burger is an adorable amalgam of pixelated foodstuffs and stacking that's easy to pick up and oh-so-difficult to put down, like a tasty burger.
Developer:
Squidshaped
Price: FREE
Version Reviewed: 1.0
App Reviewed on: iPhone 5
Graphics / Sound
Rating:
Gameplay
Rating:
Playtime
Rating:
Replay Value
Rating:
Overall Rating:
While tower stackers have become increasingly more popular in the last few years or so, I first became acquainted with the genre, like a decent amount of other gamers, with BurgerTime. Stacking ingredients on top of a delicious bun was a lot of fun for me, and I enjoyed the madcap gameplay associated with it. That's why I was immediately attracted to Pixel Burger, and why I imagine I ended up having so much fun with it. It's safe to say that it's just as adorable as it is fun to play, and I don't get to say that as often as I'd like.
The retro aesthetic works well with Pixel Burger, and right off the bat that's likely what you'll end up appreciating. The pixelated foods and other items are still incredibly and surprisingly detailed, and they're incredibly endearing. Not only will you stack items like eggs and hot dogs, but you might even get a book or a battery here and there. It's clear the burger you're making isn't fit for consumption. But that's what makes it so much fun.
The game consists of you arranging item after item on top of a hamburger bun, stacking them vertically as they rain down from the top of the screen. Your burger needs to have several key ingredients before you can proceed, so at the beginning you'll stack items that are easy to put right on top of each other, like pickles, beef, cheese, and more. Once you complete a burger, the level of each burger required will go up, and as that number increases, things will become more and more difficult.
The more you increase in level, the more difficult the items are that rain down from the sky. You'll be awkwardly attempting to stack oblong pieces, round foodstuffs, and bizarrely-shaped items on one bun. It becomes a game of food Jenga, where even the smallest mistake could cost you the level. But that's where the fun lies as well, finding a place to put the weird food items that continually fall. When you can conquer things like mushrooms and apples, you know you've made progress, and it's fulfilling to see yourself get better across each level of difficulty.
Pixel Burger is a fast-paced, fun, and aesthetically pleasing twist on the tower stacker that anyone who loves food, 8-bit graphics, and a little bit of silliness will find greatly entertaining. Its only crime is not offering some kind of silly fast food narrative to go with it. That would have been hilarious.