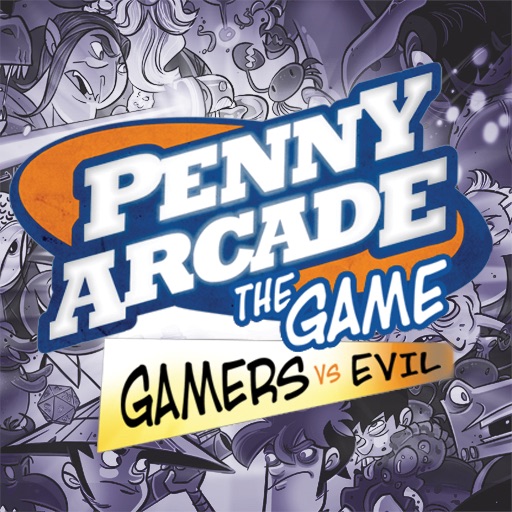 + Universal App
$2.99
Our Review by
Rob Rich
on December 24th, 2012
Rating:
:: NATURAL TWENTY
So, how does Penny Arcade's second iOS game hold up? Exceptionally well, I'd say.
Developer:
Playdek, Inc
Price: $4.99
Version: 1.0.0
App Reviewed on: iPhone 3GS
Graphics / Sound
Rating:
User Interface
Rating:
Gameplay
Rating:
Re-use / Replay Value
Rating:
Overall Rating:
I don't pretend to know what goes on behind closed doors at a software development company and I'm not even going to venture a guess. However I'm still utterly confused to find that the same company who released the decent but somewhat bland iOS version of
Fluxx
could also be behind
Penny Arcade the Game: Gamers vs. Evil
. Then again, they
did
also release the absolutely stellar iOS rendition of
Ascension
, so I suppose that last faux pas was just a fluke.
Much like Playdek's other deck building game, Gamers vs. Evil tasks anywhere from one to four players with creating the most powerful deck they can manage in order to win. Some cards bestow tokens to purchase green cards, others produce power to acquire red ones. And of course many have their own special abilities such as earning both power and tokens at the same time or drawing extra cards that are always handy. A number of smaller details make this an altogether different beast than its probable inspiration. Each player gets to choose a character card at the start of a match that gives them permanent abilities such as a constant +1 power every turn. Another key difference is the addition of bosses that grant powerful "loot" if they can be defeated. Of course they also get stronger with each incarnation.
I admit that I was expecting to find myself playing a re-skinned game of Ascension at first, but this is far from the case. There are a number of elements that make Gamers vs. Evil its own thing, from the bosses to the finite number of cards to purchase. It's got a completely different rhythm to it, which is neither a good thing nor a bad thing. It's just different. Fortunately different is still totally awesome because I honestly can't wait to get back into a game or two. Whether it's solo, pass-and-play, or online multiplayer.
I'm hard pressed to come up with any major criticisms but I do have a nitpick. Mostly it's just that the amount of tokens or power required to purchase a given card isn't as glaringly apparent as I'd like. The handy highlighting system certainly helps when I want to know what I can/can't buy, but when I want to try and take two low-end cards instead of one big one it can be tricky. I suppose adding even more cards at some point would be cool, too.
I might still be fairly new to the deck-building genre but that doesn't mean I can't appreciate awesomeness when I play it. And Gamers vs. Evil is indeed awesome. It's full of wonderful illustrations, delightfully twisted humor, and just enough nuance to set itself apart from other similar titles. It's totally my new favorite.

UNIVERSAL