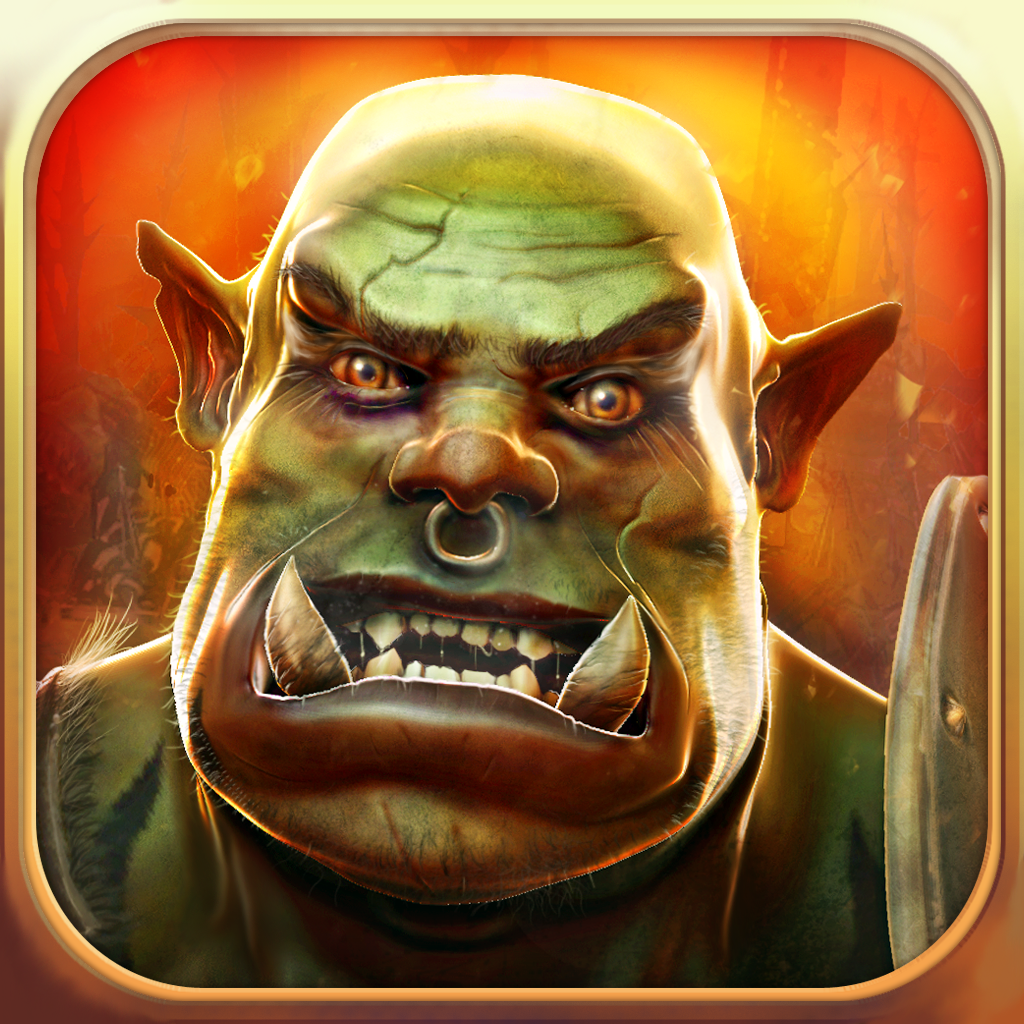 + Universal App
$2.99
Rating:
:: DUNGEON CRAWLING FUN
Hacking and slashing on iOS has never been more satisfying!
Developer:
Chillingo
Price: $2.99
Version: 1.0
App Reviewed on: iPad 2
Graphics / Sound
Rating:
Game Controls
Rating:
Gameplay
Rating:
Replay Value
Rating:
Overall Rating:
Click. Click, Clack. Click, Click, Clickity Clack.  Anyone who has played an isometric dungeon crawler on the PC knows these sounds very well.  While the genre has thrived on PC, it has lacked the successful punch on portable to fight its way into the marketplace.  Chillingo hopes to change all of that with the release of their newest action/RPG,
ORC: Vengeance
.  Can the game type manage to succeed without a mouse and keyboard, or will players just be left with a smudged screen and deep seeded regret?
Is there any better way to start a game than being informed that Armageddon is eminent and you are the world's best hope?  As Rok, one of the few remaining orcs left alive, players are placed in a scenario where they must fight back against an all out assault from the "Dark One."  Armed with only a sword and self confidence, they must hack and slash their way to survival, one adversary at a time.
Instead of endless clicking and key presses, ORC: Vengeance takes a more streamlined approach to combat.  Simply touching on an enemy will set them in your crosshairs, and engage them in combat.  As more skeletons, ghouls, and trolls begin to flood on screen, it may become necessary to use more specialized attacks to place a dent in these forces.  For this reason there are more advanced attacks that can be triggered by double tapping on the screen, slashing in different directions and drawing circles.  These attacks can deal out far more damage and can have a field that will knock back more than just the single enemy highlighted with a basic strike.
But if you are playing a game like this, it is not just for the combat, because the name of the game is LOOT!  Weapon drops, cash and shields are among the items that can be gathered to customize your ORC warrior.  Easily the most gratifying aspect of the game is the character customization.  Though it is nowhere near as extensive as what might be found in an full PC experience, the game offers more than enough customizable attacks, power attributes and weapon loadouts to keep control freaks satiated throughout.
Tying things up in a neat little bow is the extensive variety of different level designs and environments that help build out the battleground.  Long winding trails will branch and weave, providing several hours of deeply satisfying action.  Who knows what you might encounter on your journey, but rest assured that it will certainly be an enjoyable quest.
Big Cave Games have managed to deliver the caliber experience in ORC: Vengeance that Gameloft's Dungeon Hunter series has been unsuccessfully attempting to attain for the last three years.  Recommending this title doesn't do enough justice.  You should steal every iOS device you can find and install it immediately.  The owner will have no choice but to thank you for it later.

[gallery]