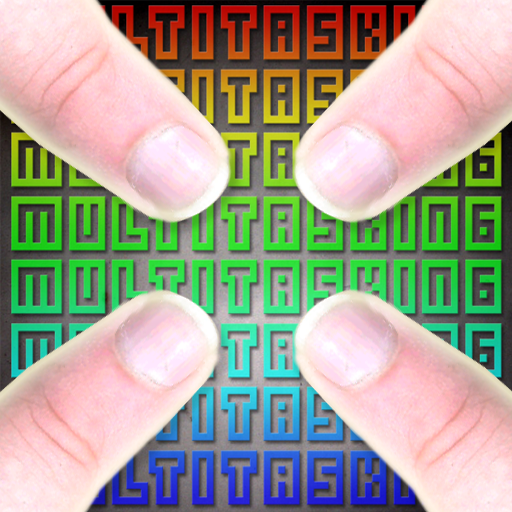 iPad App
$1.99
Rating:
:: MINI GAMES X 3
No, the iPad still can't multitask, but this game might just improve YOUR ability to do just that.
Developer:
Collective Cognition
Price: FREE
Version Reviewed: 1.0
Device Reviewed On: iPad
Graphics / Sound
Rating:
Game Controls
Rating:
Gameplay
Rating:
Replay Value
Rating:
Overall Rating:
Multitasking. For most of us, it's a fact of life, and a skill we had better develop sooner rather than later if we hope to get ahead in life. No, surprisingly, the app called Multitasking is not a business or productivity app. It's a game, but you may find it helps you split your mind in more directions than you previously thought possible.
At its core, Multitasking is a series of quick, simple action mini games, a la Wario Ware. However, whereas Wario Ware focuses on novel mechanics and clever mini game design, Multitasking focuses on throwing several simple tasks at you at once to see if you can keep up with the pace.
The games that make up Multitasking are nothing new to anyone who has been playing video games for, say, the past 30 years. There are quick word scrambles, a whack-a-mole variant and even a one-sided version of the classic Pong thrown into the mix, among many others. While any of these, taken alone, would be simple to the point of boredom, Multitasking ups the ante by having players interact with three different games at any point in time. Since you only have a few seconds to perform each needed action, the game can become intensely difficult very, very quickly.
While the premise of the game itself is novel, the games within the game are not. I would have liked to see greater originality in mini game design, rather than a retread of old reliables. Novelty and surprising originality, in the end, are what makes games like Wario Ware so charming, and it's sorely lacking in Multitasking. In addition, the build of the game I played suffered from random crashing, and the music would drop out unexpectedly; according to the developer's iTunes description of the game, these are known problems that they hope to remedy soon with an update.
Multitasking is an original idea with unoriginal gameplay. Taken as a whole, however, it is successful at what it tries to do, and it is one of the more challenging games I've played. Maybe it will even help me be able to do three things at once at work.