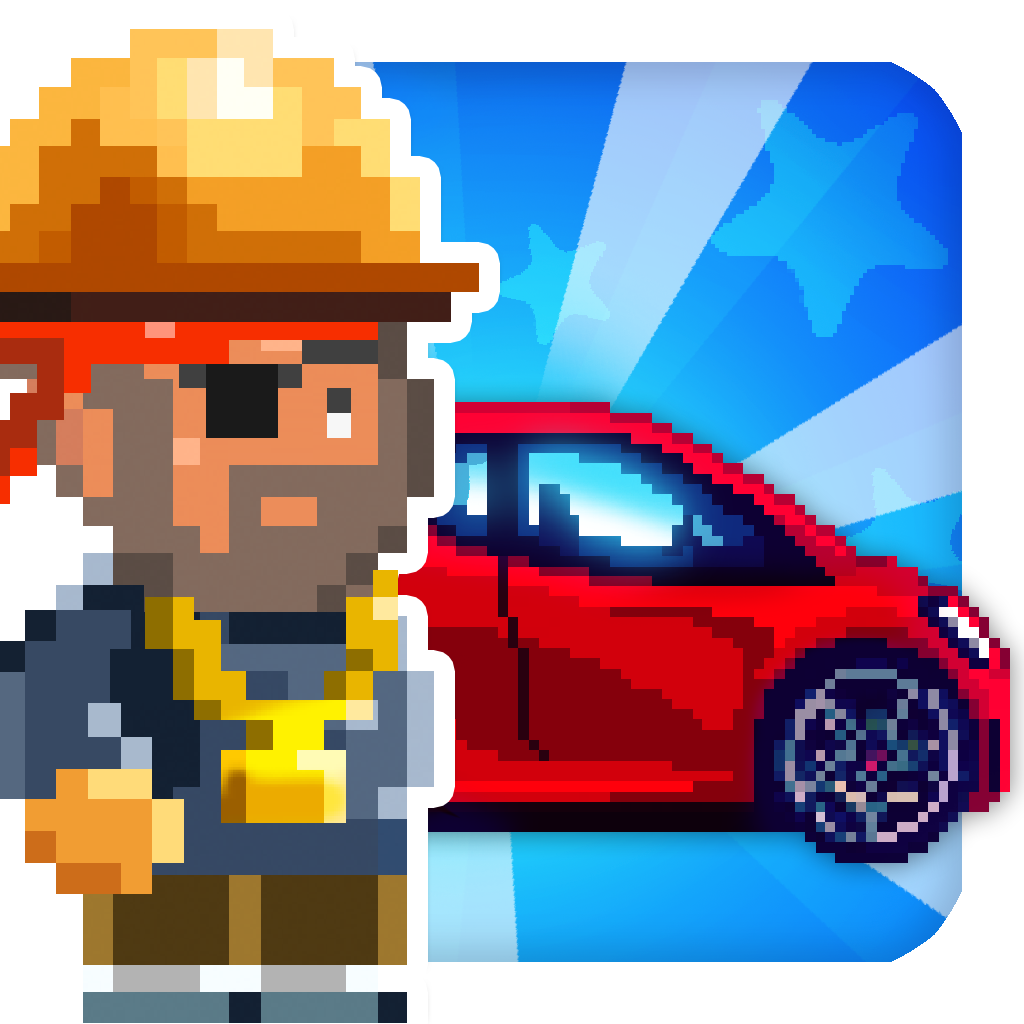 iPhone App
FREE!
Rating:
:: BUILT FORD TOUGH
A strong personality and plethora of side elements are what keep this car factory management sim interesting.
Developer:
Oh Bibi
Price: Free
Version Reviewed: 1.0
Device Reviewed On: iPhone 4S
Graphics / Sound
Rating:
Controls
Rating:
Gameplay
Rating:
Playtime
Rating:
Replay Value
Rating:
Overall Rating:
Playing
Motor World Car Factory
may give one a newfound respect for the assembly line. It's such an efficient process and, at least in this game, makes manufacturing and selling cars as simple as tapping from left to right. However, the real entertainment comes from the side tasks that will keep players busy long after the cars are off the lot.
Anyone who's played something like Game Dev Story should feel right at home with Motor World Car Factory's sim management gameplay. They even share a similarly good, but not great, pastel pixelated art style. At one end of the screen is the entrance to the factory where players start building their cars and at the end is the dealership where sales are made. Having this linear process be an actual line to scroll through makes controlling the chaos a breeze even after the dealership starts expanding while multiple cars are being built at once.
However, there is so much more to do besides simply selling sedans and SUVs. There are events to attend and statistics to monitor. Employees must be hired and trained or recruited from Facebook. There are plenty of new vehicle models to unlock and upgrade. Players can set prices to sell cheap, low-quality cars quickly or wait longer for higher profits and more respect. Plus, there are a ton of wacky side quests involving corporate spies, rappers, stunt car drivers, zombie professors, and a superhero named Catman. Not all of the extras work. The racing minigame is painfully basic and there are some pretty bad "Call Me Maybe" jokes. However, any game that calls the player "swagmeister" when they level up must be doing something right.
As with all freemium games, some conveniences come at a price. There are three currencies to manage: coins to buy cars and land, donuts to nourish workers, and real dollars to buy coins and donuts as well as speed up other processes. Fortunately, because there are so many things to do at any given moment the player rarely feels like they are just waiting around. Plus, the other currencies are given out at a fair rate. For example, players can choose to pay for donuts or get some for free by occasionally nabbing criminals Where's Waldo-style.
The only downside to the game that's truly distracting is its soundtrack. Songs start and stop randomly and the bizarre combination of chiptunes and epic orchestral music sounds taken from other sources. The jumping sound effects in particular are straight out of Super Mario Bros. Worst of all every character's voice is an ear-piercing shriek. Still, even if they'll want to mute it, any control freaks looking for a fun and varied way to keep busy should give Motor World Car Factory a look.

[gallery size="thumbnail"]