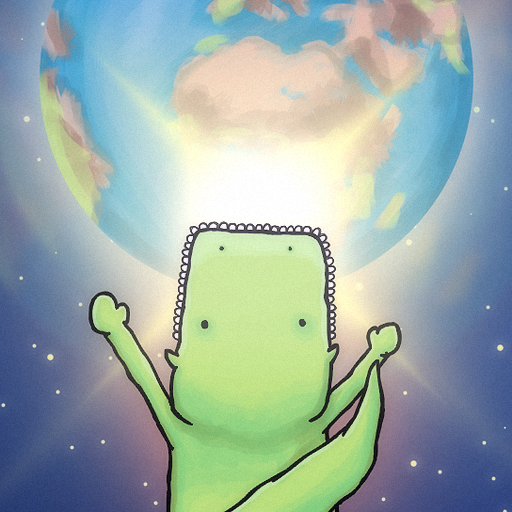 + Universal App
$0.99
Our Review by
Rob Rich
on February 6th, 2012
Rating:
:: A MONSTER SCORNED
There's nothing like a good rampage to clear the head when a love-struck monster gets rejected.
Developer:
Group Sound
Price: $0.99
Version: 1.0
App Reviewed on: iPhone 3GS
Graphics / Sound
Rating:
User Interface
Rating:
Gameplay
Rating:
Re-use / Replay Value
Rating:
Overall Rating:
It's difficult to categorize
My Little Monster
. It's something akin to a virtual pet, but also has some vague RPG elements. It could also double as a kind of hands-off fighting game. Then there are all of the absurdly surreal elements that make it feel like some oddball indie experiment. While I can't comfortably place it in a specific genre, I can say this: It's awesome.
It all starts with an adorable green monster getting shot down by the other adorable green monster he has a thing for. Rather then wallow in self-pity he decides to destroy the world. An apt reaction, I suppose. Once all the exposition is out of the way, players are tasked with training the little green would-be harbinger of doom in order to climb the ranks. Or in this case, survive the days. Each win earns experience and cash to be spent on boosting stats, learning/upgrading one of three abilities and hat. Yup, hats.
The road to revenge is an oddly compelling one. Each victory leads to more possible monster improvements, and more improvements lead to more victories (and larger dividends). Successfully besting the boss at the end of an area for the first time will boost the multiplier for experience and cash earnings, and this multiplier will remain even after that inevitable Game Over. My Little Monster is meant to be played over and over, with each successive attempt getting a little farther than the last.
As much as I enjoy virtually everything about
My Little Monster
(the retro-inspired visuals, the progression, the utter craziness), I found a couple of aspects slightly off-putting. The way buttons are inactive until a transition is complete, creating a somewhat unnecessary lag in response time, is annoying but only a factor when navigating the menus. The music, on the other hand, is harder to tolerate. It's not that it isn't good, it's just the same exact tunes over, and over, and over, and over, and over, etc... It's a shame because they really are good chiptunes, but there aren't very many of them and the get reused way too much.
I'd be remiss if I didn't recommend My Little Monster, despite its quirkiness. It's simple, sure, but that's the idea. It's meant to be played over and over again. Players are supposed to try different strategies each time until they find one that works for them. Most of all, it's the kind of game that can drain an entire afternoon. Then the afternoon after that. And the one after that.