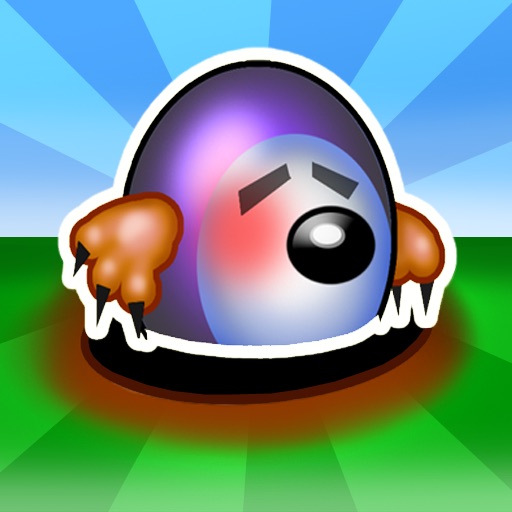 iPhone App
FREE!
Rating:
:: BROKEN GOLF
Mole in a Hole offers a basic golf experience that suffers from a severe lack of tuning.
Developer:
Chunky Pixels
Price: $1.99
Version Reviewed: 1.1
Device Reviewed On: iPod Touch
Graphics / Sound
Rating:
Game Controls
Rating:
Gameplay
Rating:
Replay Value
Rating:
Overall Rating:
Have you ever been playing a round of mini-golf and thought to yourself, "This sure is fun, but I wish by ball were a mole?" Of course you have, and now that dream can become a reality with Mole in a Hole. As it turns out though, moles aren't exactly the best golf balls, as the game's nearly broken controls and incomprehensible scoring system put a severe damper on the experience.
Mole in a Hole lets you whack your little rodent around a bunch of mini-golf inspired holes in the hopes of achieving the best score in the fewest strokes possible. Along the way you can pick up stars which enhance your overall score, so there's a bit of incentive to make creative shots and possibly go out of your way for some big points. Annoyingly though, the game basically punishes you for exploration by forcing you to repeat holes over and over again if you don't come in under par. Since the game never bothers to spell out par for any given hole (it seems to be four across the board), you're basically left hanging out to dry. This will likely lead many players to abandon the star hunt altogether and instead play the game as a straight mini-golf simulator, which is a bad idea.
While most of the core gameplay works just fine there are some really irritating quirks that pop up and make the game extremely hard to play. For instance, anytime your mole ends up in a sand trap he sort of wiggles in place, never really staying truly still and thus making it hard to line up and determine power for your next shot. Also, the controls seem to be scaled with longer shots in mind, so oftentimes short putts are more difficult than long ones because it's hard to not totally overshoot the hole. A lot of the execution just feels like it was rushed and not thoroughly bug tested.
Mole in a Hole may be good for younger gamers who love the pretty colors and aren't really expecting much, but adult gamers will likely be frustrated by the title. This is clearly a style over substance game, so enjoy the sizzle but don't go expecting very much steak to come with it.