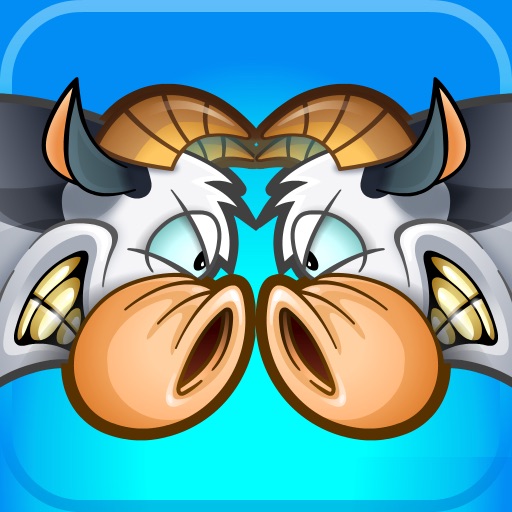 + Universal App
$0.99
Rating:
:: COW BATTLE!
Mad Cows is a physics-based puzzle game that takes inspiration from Angry Birds, adding in a turn-based online multiplayer mode.
Developer:
Everplay Interactive
Price: $0.99
Version Reviewed: 1.0
Device Reviewed On: iPad 2, iPod touch 4
Graphics / Sound
Rating:
Game Controls
Rating:
Gameplay
Rating:
Replay Value
Rating:
Overall Rating:
Mad Cows
is a game that tries to add on to the
Angry Birds
formula with a key feature: turn-based online multiplayer. The core gameplay is similar to
Angry Birds
: launch animals from a catapult at structures with targets to destroy. The animals in
Mad Cows
are farm animals, and the objects to destroy are farmers with hats. The multiplayer puts two players on opposite sides of the map, taking turns to try and defeat each other. A slot machine comes up before each turn that determines what choices the player will have to launch at their opponent. Matches go until one player has eliminated all of their opponent's farmers, and each player has taken an equal number of turns. If both players have no farmers left, then the player with the higher score wins.
The online multiplayer is the key draw here, and it is refreshing to have competition to take on as part of the physics puzzler formula. Game Center is used for the turn-based multiplayer, and thankfully the game lets players add their opponents as friends from in the game itself. Be prepared to hear the Game Center horn a lot when turns come in. The singleplayer mode is basic, but has a different hook to it: there are sets of levels where players must only use one type of animal, and ultimately need to beat the level in one shot to get three stars.
The problem with
Mad Cows
is that at least for a while, the different animals' functions doesn't feel comfortable because the player doesn't quite understand what they do. It speaks a similar language to
Angry Birds
, and the animals all have similar functions, but there's just something new to get used to. While the singleplayer mode has individual levels for each animal, it doesn't serve as an effective way to educate the player on what each animal does. Part of the reason why
Angry Birds
succeeded the way it did was because they were able to introduce each of the birds over time, letting the player get acclimated to the game. Rovio knows how to teach players how to play their game. Compare
Amazing Alex
's opening levels to
Casey's Contraptions
and how much simpler and effective the former game's tutorial is.
Mad Cows' concept is not entirely original – it does skew very close to Angry Birds with some slight unit differences, its multiplayer is quite fun. Those who haven't yet had their fill of physics puzzlers might just enjoy this.